Note: this article contains depictions of domestic and family violence.
NAB's Head of Privacy, Jay, has hearing loss caused by domestic and family violence.
"I had poor hearing in one ear from when I was a child," said Jay, "but my good ear got smashed into stone and punched by my ex."
"I thought my hearing was going to recover, but it never came back."
Jay now wears a well-concealed hearing aid and is one of countless NAB colleagues who live with disability that most of us can't see.
Making adjustments
In the office, Jay often misses conversations if she's not directly facing her colleagues.
"I now tend to sit over in the corner right up against the wall, so people can't come behind me and talk anymore," she said. "And in meeting rooms, my team makes sure that I'm in the middle so I can see everybody."
And then there's the challenge of hybrid working.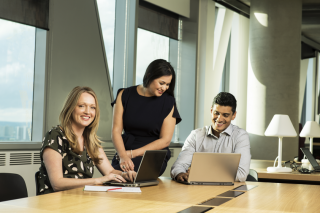 "Quite often you don't realise how much communication you pick up from body language and just the way people move," she said. "I rely on both the audio and lip reading, so I struggle when the yellow box on Zoom doesn't always pop up to show who's speaking."
Jay's team always uses Zoom live transcriptions, but even so it can be difficult to pick up key words and unique names.
"But my team is fantastic," Jay said. "They'll jump into the chat to fill in any blanks for me, and also take minutes and confirm actions after the meeting."
Jay and her team make other minor tweaks, such as keeping meetings to 25 minutes to provide five minutes of silence to decompress.
"When people care enough to make small adjustments it really makes you feel valued and more engaged," she said.
Speaking up …
Jay encourages her colleagues at NAB with disability to have the courage to talk about workplace adjustments with their colleagues, and trust that their manager will take action.
"There are tons of us here with hearing loss and we've got a safe and inclusive environment," said Jay. "NAB will accommodate you."
And as a leader at NAB, Jay is passionate about sending a similar message to customers and colleagues experiencing – or who have survived – domestic and family violence.
… being supported
"A lot of women are really afraid to disclose because they're worried about judgment," she said, "but workplaces are so important in helping women find safety."
"What got me out of the situation I was in wasn't just reporting what happened and the response of the criminal justice system, it was having a really good manager, a safe work environment and colleagues that cared."
"My workplace made the biggest difference in supporting me in escaping family violence after I disclosed what was happening, by being supportive of me and being a safe place, when my home was the opposite."
"Leaving was terrifying, but knowing I was supported by work and not alone, helped me leave."
Jay is now a prominent survivor advocate, and speaks regularly about the intersection of disability and violence.
"Women with a disability are statistically far more likely to be the victim of domestic violence," she said. "But you can also acquire the impairment, like I did, as a result of domestic violence."
"Disability is not always a vulnerability, but it can be."
International Day of People with Disability
Friday December 3 is International Day of People with Disability.
Visit NAB's Accessibility and Inclusion page to see what NAB is doing to become a more accessible and inclusive organisation.
16 Days of Activism
2021 marks the 30th anniversary of the Global 16 Days of Activism Against Gender-based Violence campaign, which runs from 25 November to 10 December.
If you need help visit NAB's Domestic and family violence support page.
Feature image above: NAB's Head of Privacy, Jay, has hearing loss caused by domestic and family violence.