Cyber security is everyone's business.
That was the message from National Cyber Security Co-ordinator Air Marshal Darren Goldie, who sat down with NAB Chief Security Officer, Sandro Bucchianeri this month to kick off Cyber Security Awareness month, led by the ACSC.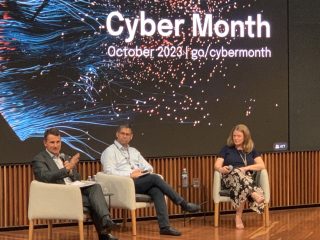 "The cyber criminals we're up against are global transnational gangs, that aren't concerned by geographical borders or legal jurisdictions," Air Marshal Goldie said.
"They target households, governments, businesses and the most vulnerable communities, and that's what I am most concerned with."
First step: a national plan

Air Marshal Goldie was appointed Australia's first National Cyber Security Coordinator in July this year, following three decades of service in the Australian Defence Force.
During his conversation with NAB colleagues, Air Marshal Goldie discussed some of the challenges and opportunities he's faced in his new role.
"It was a violent transition from the role I was in as part of the Australian Air Force previously," he said.
"But the Government has been clear on its priorities and my role to help strengthen Australia's cyber security, which is fundamental in the way we live, work and communicate."
One of his first tasks on the job has been to develop a national policy to cement Australia as the safest country in the world by 2030.
"If you're going to write a strategy about anything, cyber security is as hard as it gets, because understanding what's next and what's in the medium and long term is extremely hard, and you end up with debates at the policy table about what 2030 looks like."
Australian SMEs face the biggest cyber threat 
For Air Marshal Goldie, one of the biggest red flags in Australia's defensive capabilities is the pressing need for more cyber education and awareness among the community, particularly SMEs.
"The growing threat of cyber crime is really pointed towards the top end of SMEs who are more at risk but are battling competing priorities with fewer resources," he said.
NAB's Consumer and Business Insights research on scams education indicates that SMEs are one of the least cyber prepared sectors, with just 15% percent of Australian SMEs conducting extensive training around scams and cyber security risks. Four in 10 had "not much training at all."
But Air Marshal Goldie warns of other global cyber trends that Australians need to watch out for.
"Amidst growing ransomware attacks, schools are becoming more prominent targets," he said.
"We're seeing this play out in the US where it's a significant problem."
"If you consider the profile of a school, they are the same exact size of a successful medium sized business, with a couple of thousand individuals all carrying personal devices with personal information connected to a school network."
"They are small enough not to have full time cyber security teams and generally don't have the resources for a 24/7 threat response partner. Unfortunately, these are the targets that cyber criminals can attack easily and demand a ransom."
October is Cyber Security Awareness Month. NAB offers free cyber security training for all Australians and Australian businesses. So far this year the NAB Security team have conducted more than 115 sessions. Anyone can register at nab.com.au/security.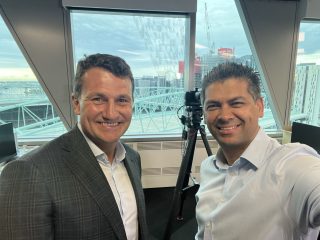 Watch more here: