It was a bumper weekend of spending across the city of Geelong thanks to the highly anticipated Foo Fighters concert at Kardinia Park.
According to NAB's transaction data – the Foo Fighting effect took over Geelong restaurants and bars to see a 56% increase in customer spending on the day of the event (Friday 4 March).
With many opting for a weekend getaway, accommodation was the runner up with a 22% increase on the Saturday after the concert.
Overall customer spending on the day of the concert went up 15%, with a 6% increase in customer spending across the entire weekend when compared to the weekend prior.
NAB Executive Business Direct and Small Business, Ana Marinkovic, said it was wonderful news for Geelong and all its small businesses.
"It's so exciting that Geelong got to host this iconic event. It's been great to see packed restaurants and bars, booked out hotels and lots of people travelling down to Geelong for the weekend, Ms Marinkovic said.
"Events like these remind us the vibrancy of our cities remain and we have a lot to look forward to as Victoria continues to open up."
Splatters Cheese Bar owner Jo Bangles said there was an incredible liveliness across Geelong in the week leading up to the concert and that only got better over the weekend.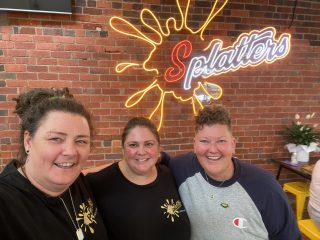 "It was a massive weekend for us, we almost doubled our revenue which is just incredible. We had a full house from before the concert on Friday night right through to Sunday," Ms Bangles said.
"It was really exciting to see lots of people visiting from out of town, we had visitors from across Victoria, from Sydney and even from Hamilton, the energy in town was spectacular."
"Our followers have also gone up and we're now taking bookings until the end of May. As a new business, we're absolutely stoked with the traction we're getting off the back of this weekend."
Notes to Editors:
Data sourced from NAB merchant terminal transactions.