NAB aims to make banking quick, safe and simple. These are some key areas where NAB has improved customers' banking experiences since September last year.
1.       A whole new home loan experience
NAB is simplifying and speeding up the time it takes to get a home loan. The Simple Home Loan process has reduced 'time to yes'. More than 30% of customers receive unconditional approval in less than an hour and 60% in less than one day. NAB's aim is to make this the norm.
The pandemic has also changed how NAB engages with customers about home lending. An online home loan appointment booking tool was launched in September 2020. Customers can book an appointment, often within an hour, for a time and place that suits them – be it in branch, via video, over the phone or a visit from a mobile banker. Before the pandemic, no home lending appointments happened via video. Now more than 50% of home lending appointments  are held over video.
2.       Banking for whatever stage of life you're at
Every customer is different and NAB has options for however you choose to bank. A partnership with fintech Spriggy was announced in July. This will help parents to teach their kids how to save and spend their own money in a digital world.
For adults, credit cards are the most common way to make payments and manage their money. NAB launched StraightUp, Australia's first no interest credit card, in September 2020. Over the past year, StraightUp has been NAB's most popular credit card product, representing 30% of new credit card applications. About 37% of applicants are aged under 35, showing the card's strong millennial appeal.
NAB recently announced its intention to acquire Citigroup's Australian consumer business, including the well-known and established unsecured lending business. Customers will continue to see more innovation from NAB in this space.
3.       Getting the max out of your app
More than one in five Australians use a banking app every day, according to new NAB economics data.  The NAB app is being constantly improved so customers have a better experience.  Customers can download statements for tax time, deposit a cheque by taking a photo on their phone, monitor their spending and temporarily block and unblock their card.
4.       Help you when you need it
NAB supports customers through the good times and the not so good times. NAB refreshed its Customer Vulnerability Framework in September this year. The framework helps NAB to identify customer vulnerability earlier and act, reduce financial abuse and respond to natural disasters and pandemics.
This month NAB is also improving the online hardship form, so vulnerable customers can apply for financial assistance at the click of a button and at a time that suits them. Automatic approval for those eligible will reduce customer stress instantly. Customers who require a more detailed conversation with NAB's experienced hardship bankers will be able to get through on the phone quicker.
5.       Branches for big conversations
NAB is investing hundreds of millions to revitalise and transform our branch network around Australia as it continues to adapt to the way customers are banking. Seventy-four branches – many in regional communities – were transformed in FY21.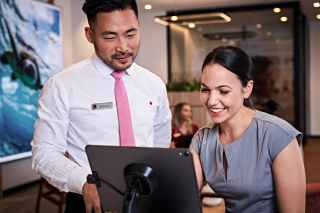 The transformed branches are made for conversation with a new-look design, open plan layout and dedicated meeting spaces. They also feature popular self-service digital bars and self-service machines that can be used 24/7.
When a physical branch presence is no longer there, NAB is still there for customers – just in different ways. Customers can make deposits, withdrawals and check their account balance at more than 3,500 Australia Post locations displaying the Bank@Post sign. NAB is also piloting Community bankers at selected post offices to assist customers with general banking enquires and digital education.
Through the changes of the global pandemic and more, NAB is designing banking for how people live. While 93% of NAB's customer interactions now occur through digital channels, NAB is human when it matters.