NAB has launched tap on phone payment technology for small businesses in a first for a major Australian bank.
The NAB Easy Tap app is an innovative solution that allows small businesses to accept contactless payments when customers tap their card1 or phone on an eligible android mobile phone or tablet2.
NAB Group Executive, Business and Private Banking Andrew Irvine said NAB was making it easier for small business customers to run and grow their businesses.
"I've spoken with hundreds of small business owners around Australia, and the themes are clear: they want time back and they want their banking to be simple and digital," Mr Irvine said.
"NAB Easy Tap removes complexity and provides real-time sales data via the NAB Hive merchant portal, saving small business owners valuable time."
With research revealing small business owners continue to cite time and administration as significant pressures, NAB Easy Tap offers an all-in-one product that is quick and easy to use.
"This is perfect for Australians with a side hustle – think your local farmers market, coffee carts and mobile hairdressers who don't want to lug around a payment terminal or dongle and who are looking for instant insight into how their business is performing."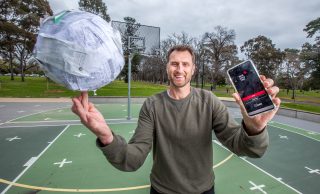 Australian basketball icon turned businessman Chris Anstey said NAB Easy Tap allowed him to sell merchandise at events and on the go easily.
"NAB Easy Tap lets me spend time with people, instead of being tangled up with payments," Mr Anstey said.
"I was always having issues with dongles not connecting or breaking and that was taking me away from talking to people. It's been brilliant to retire the dongle and it's one less thing to take to an event."
Mr Anstey said NAB Easy Tap was quick, safe and simple.
"The biggest benefit is viewing my takings any time in the app and then seeing that by week, month and quarter," he said.
For more information visit nab.com.au
Check out Easy Tap in action:
Notes to editors:
About NAB Easy Tap
No minimum purchase amount
Can be used on an eligible Android phone or device
Can be used anywhere Visa, Mastercard, EFTPOS or American Express is accepted in store
No upfront costs, ongoing device fees, lock-in contracts or need to buy or rent a separate payment terminal.
Payments can be made by contactless cards and wallets (including digital wallets and wearables)
NAB small business customers can apply online, download the app and start accepting payments shortly after
Powered through NAB's partnership with Quest.
About Quest  
An all-Australian technology company head-quartered in Melbourne providing diverse and innovative end-to-end payment solutions to retailers and financial institutions both locally and abroad.
As the country's largest and leading full-service payment solution supplier, delivering Australia's only locally designed and manufactured range of payment terminal hardware, Quest excels in delivering both mass market and bespoke solutions drawing on over twenty years of development expertise.
1 Cards not accepted include UnionPay, JCB and other non-standard card payments.
2 Android device minimum requirements includes a Near Field Communication (NFC) enabled Android smart device, running an Android Operating System (OS) of 9.0+.