When NAB banker Mark Wright and his colleagues drove through Murwillumbah early on a Friday morning to do some volunteering work, nothing could have prepared them for what they saw.
"Seeing that waterline, all the rubbish out the front of houses, roads completely damaged. To imagine the water getting above 6ft 4, would have been so scary. All the houses around that, trying to picture it is almost unimaginable," said Mark.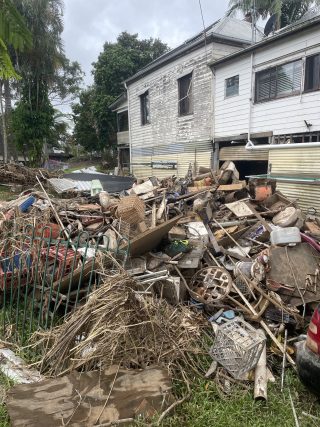 Driving into town down one of the suburban roads Mark and his colleagues witnessed how many people had lost their homes.
"Everyone's furniture, pretty much everything they owned was on the side of the road. All of these houses had been completely gutted and these people had lost everything," he said.
"Murwillumbah is very similar to Lismore in that flood insurance is very expensive, not many people can afford it each year."
Mark, an Associate in Deal Structuring & Execution at NAB, a joined his colleagues from the Southport Business Banking Centre – Tarsha Kyne, Nicola Leighton, Jeaneen Jennings and Melissa Merigan – to help with the clean-up efforts.
The team was sent to houses that had been flooded.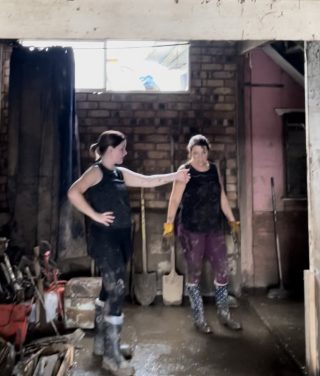 "In one particular property, you could see the raw emotion of the homeowner as he described the impact of his home being destroyed by the flood – the water had reached within inches of the ceiling," Mark said.
"It's very sad because he told me in 2017 the exact same thing happened. It had come through and cleared everything right out, he said he was just starting to get back on his feet and this one came through," Mark said.
The kindness Mark and his colleagues witnessed on the ground was a reminder that at the worst of times you often see the best in people.
"The cinema in town had been gutted, but was where everyone came in to pick up supplies. So many people had nothing but it was an open hall full of donations and supplies of things people needed," he said.
"People who had lost their houses would come in would come in, crying. But the community was getting around them, asking what they needed, looking after them. It was really good to see.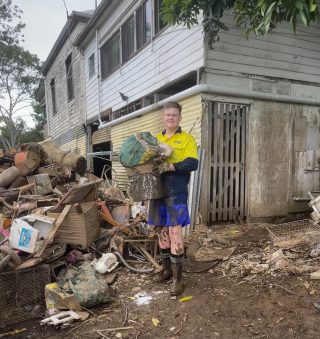 To be able to give back through NAB's volunteering leave was an opportunity Mark and his colleagues could not pass up.
"I'm really grateful to have been able to give back. In these types of moments – not just for me, but I think also the bank – is when it's the most important to get out and help, when people are struggling," he said.
"It was devastating to see but to be on the ground and able to give back to the community during this time was more rewarding than we could have ever imagined. We are grateful we could make a contribution to rebuilding the lives of individuals and this community."
NAB has so far provided more than $2.6 million in emergency grants to 2500 customers and colleagues to help with immediate financial support as they need it. These $1,000 grants help cover costs such as temporary accommodation, food and clothing . NAB customers who have suffered damage to their home and need assistance can call NAB Assist on 1300 308 132.
 
NAB's $1,000 business grants are also available to help restart or reopen and cover the cost of damaged property, equipment, fencing – and for loss of stock or livestock. NAB business and agribusiness customers wishing to access the grants should call NAB's dedicated team on 1300 769 650.