While growing up, Marion Chapman still had some vision in one eye.
"When I first left school I had some quite usable vision," said Marion. "Not perfect vision but enough to read a computer and get into a bit of trouble as a teenager."
When her troublemaking teenage years were over, Marion put her mind to going to university and then getting a job.
"While my vision wasn't good enough to drive, I thought there would definitely be work that I could do," she said, "so I studied community welfare and thought that I'd go out and work as a youth worker or something like that."
Then life threw Marion a curveball.
"Part way through the course, the vision I had started to go," she said, "so I had to rethink what I was going to do."
The job hunt
Marion started applying for jobs, but they all required her to have a driver's license.
"I said that I couldn't get one because I'm vision impaired," she said. "And instantly after that they'd all say, 'Oh well, I'm sorry.'"
"It was frustrating that there was that accessibility barrier to something that I really wanted to do." ​​​​​​​​​​​​​​​​​​​
But Marion rolled with the punches. She went back to uni and did a journalism degree, and then got a job with her local council.
"It was an admin role, but once they found out that I had a journalism degree they asked if I'd be interested in doing some communications work with them," she said. "I said, 'Absolutely!'"
Marion loved her diversified role, but unfortunately her employer just didn't have the accessibility options that are available today.
"My vision impairment was going to make the admin part of the role problematic because their applications just were not accessible so there were limitations to what I could do," said Marion.
A career at NAB
Marion left the council but then, in 2008, landed an admin role at NAB!
While she quickly mastered her new gig, she still faced some accessibility challenges. Such as having to scan any paper document before she could read it via her screen reader.
"When I started at NAB the general accounts used to come through internal mail in a huge wad of printouts," she said, "so that was an aspect of the role that someone else had to do."
"It was frustrating because you think, 'Well this is my job, and if I can't do it properly then what does that mean in the long term?'"​​​​​​​​​​​​​​
Thanks to her own persistence and NAB's incremental workplace adjustments, Marion has now built a 'long-term' 14-year career supporting our bankers to serve customers well!
Making work accessible
Marion navigates NAB's platforms using her Job Access With Speech (JAWS) screen reader.
"I can just tab through Zoom and it will speak everything that is on the screen to me," she said. "Microsoft Teams is pretty much the same—there are shortcuts so I can easily jump to our files or our team chat."
"It just means that I can participate fully in my team even when we're all scattered all over the country."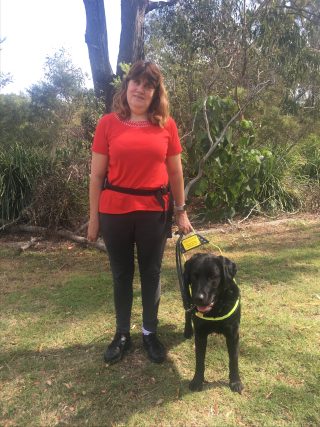 When asked what colleagues can do to make life easier for people using screen readers, Marion immediately replies with just one word: 'screenshots'.
"Screenshots are the bane of my existence," she said. "Because a screenshot is just an image on the screen, the screen reader does not read that to me."
While Marion appreciates when colleagues make adjustments such as using text instead of pictures, she is always forgiving when people don't get it right.
"Unless I say something is an issue, I don't expect people to know, so I don't get frustrated with them," she said.
"I've been totally blind for a long time, and I'm lucky that I embrace these challenges and they don't defeat me!" ​​​​​​
Thursday 19 May is Global Accessibility Awareness Day.
Visit nab.com.au/accessibility for more about what NAB is doing to become a more accessible and inclusive organisation.