NAB has today announced changes to its variable home loan interest rates, effective Friday 30 June 2017.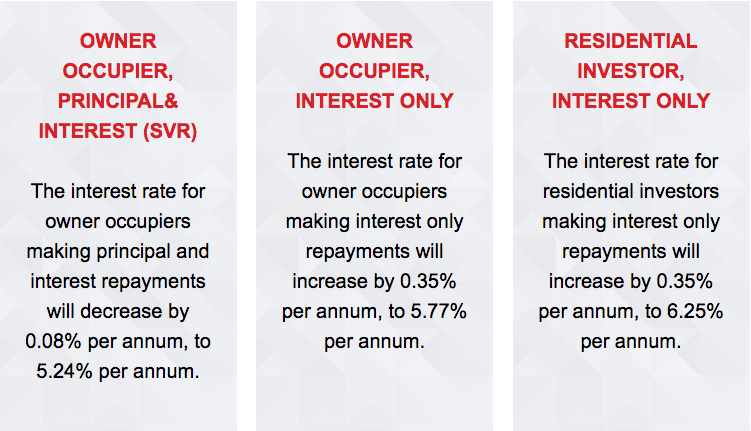 NAB Chief Operating Officer, Antony Cahill, said the reduction to NAB's Standard Variable Rate will benefit around 80 per cent of NAB's owner occupier home loan customers*.
"The 0.08% per annum decrease will see owner occupier customers making principal and interest repayments save $14 each month, or $168 each year**, and help them to pay off their home loan sooner," Mr Cahill said.
"We need to comply with our regulatory requirements, including APRA's 30 per cent limit on new interest only lending for residential mortgages, while balancing the needs of customers across our entire portfolio and continuing to provide competitive rates."
Mr Cahill acknowledged the impact these changes will have on home loan customers making variable interest only repayments. Borrowers will not incur a fee to switch their repayments to principal and interest; customers are encouraged to discuss variations to their home loan with their banker or broker.
NAB continues to offer first home buyers a special 3.69% per annum, fixed for two years***.
"We're pleased to continue to help Australians, particularly young Australians, wanting to enter the property market to achieve their home ownership dreams," Mr Cahill said.
From Friday 30 June 2017, NAB's advertised variable rates will be as follows:
Current advertised
rates
Advertised rate as at
Friday 30 June 2017
Owner Occupier Principal and Interest
5.32% p.a.
5.24% p.a.
Investor Principal and Interest
5.80% p.a.
5.80% p.a.
Owner Occupier Interest Only
5.42% p.a.
5.77% p.a.
Investor Interest Only
5.90% p.a.
6.25% p.a.
The changes announced today are unrelated to the Federal Government's Major Bank Levy.
* Excludes Base Variable Rate and Line of Credit products.
** Based on a new $300,000 loan over a 30-year term.
*** Available for owner occupier, principal and interest customers only. Eligibility criteria apply.
Notes to Editor: Effective Friday 30 June 2017, the NAB Homeplus Rate will reduce by 0.08% per annum to 5.27% per annum, and the NAB Homeplus Interest Only Rate and NAB Homeplus Residential Investment Interest Only Rate will increase by 0.35% per annum, to 5.70% per annum and 6.18% per annum respectively (Note, these products are no longer available for new borrowers; rates are not inclusive of the 0.10% p.a. interest only margin). NAB will also increase Line of Credit products by 0.35% per annum. These interest rate changes do not apply to NAB Base Variable Rate products. Conditions, fees and eligibility criteria apply to NAB's products.