Throughout the COVID-19 pandemic, NAB Assist banker Michelle has been working on the phone, helping NAB customers experiencing vulnerability.
"I'm dealing with customers who can't pay their mortgages, and I just want to reassure them that it's ok," said Michelle. "It's so rewarding when you're able to help those customers out."
But in late August it was Michelle who needed support when her family of eight all caught COVID-19. Her youngest child brought the virus home from day care, and it quickly spread through the household.
"Everybody was coughing and suffering from aches and pains and a sore throat," said Michelle's 17-year-old daughter Saela, who wasn't eligible to be vaccinated at the time.
"We were more worried about my grandma as she was older.  I thought I was safe [as] I was young and COVID usually affects older people."
While Michelle's two youngest children recovered quickly, Saela took a turn for the worse.
"I sat alone in the ambulance and I had never been in an ambulance before," said Saela. "I was so scared and lonely."
Saela spent nearly a month in hospital, including 15 days on a ventilator in intensive care.
"When I got the call from the doctor to say that Saela's health had deteriorated so rapidly, I was in shock," Michelle said. "I remember speaking to the doctor and I said, 'Please. You need to save my baby.'"
The doctor said that Saela was "the sickest person in this hospital".
Meanwhile, Michelle's older son was deteriorating, and her husband was coughing up blood.
"I was broken," Michelle said. "I wanted to be with my daughter [and] my husband, but I was still so sick with COVID myself."
"I thought someone was going to die and it was much easier for me to prepare for a loss than to hope."
But Michelle kept her family's ship afloat, thanks to the medical staff at Box Hill Hospital, and the support of her colleagues and community.
"NAB has been awesome," she said. "My team leader kept in touch with me all the time, and my team were sending Uber Eats to my home. They'd say 'Michelle, look out, there's a bunch of KFC coming!'"
While Saela was recovering in hospital, Michelle would also arrange for friends to send videos to cheer her up. She even reached out to some public figures, including Victoria's Chief Health Officer Professor Brett Sutton.
"Literally within two hours, Professor Sutton responded to me from his personal email saying, 'I'd love to help in any way I can!' For him to be so approachable was amazing."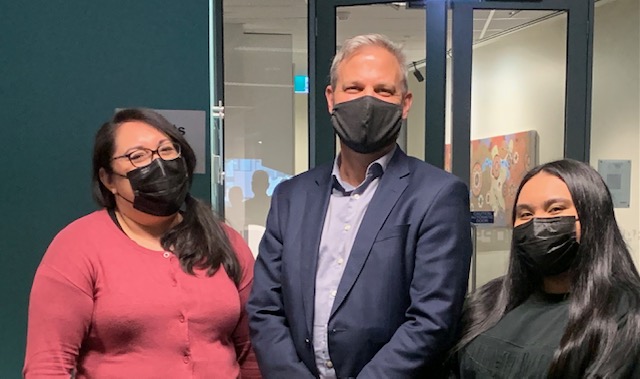 Spreading the word
Having now beaten COVID-19, Michelle and Saela are determined to urge others to get vaccinated and avoid going through what they did. And yesterday, they accepted an invitation to speak at Victoria's daily COVID-19 press conference.
"I'm so thankful I have my daughter standing next to me right now," said Michelle in front of the media lights and cameras. "I admire her bravery and resilience and it's sad to know there are still a lot of families out there who are affected by COVID."
Despite their nerves, Michelle and Saela were a hit, and even took questions from the media. One journalist said that they'd been to these press conferences over a hundred times, but this was the first time they'd heard an applause.
"It is a very powerful reminder of the need to be vaccinated, to protect ourselves and each other," said NAB CEO Ross McEwan on LinkedIn. "Thank you Michelle and Saella for your incredible bravery."
Saela had a special message for those young people who are now eligible to be vaccinated.
"There are a lot of people my age who think they're invincible and don't need the vaccine," Saela said. "I don't want anyone my age to have to lie in a hospital bed and tell their family they're sorry they did not get vaccinated in time."
NAB is backing  efforts to lift Australia's vaccination rate to 80% and beyond. To find out more visit nab.com.au/jab, which includes links to how NAB Assist can help if you're in financial difficulty.