NAB is looking to future proof Australia's STEM industry by launching its first dedicated work experience program.
NAB's head of technology capability and acceleration, Jade Warrener, said the program was part of a broader push to encourage more young people – especially girls – into tech.
"According to the STEM Equity Monitor report, 83% of girls surveyed consider technology to be an essential life skill, but only 56% considered a career in engineering. Our hope is that our STEM work experience can start to shift that mindset," Ms Warrener said.
The first official cohort will begin June 26, with 41 students set to undertake a week of work experience.
They will learn about the world of cyber security, data analytics, cloud engineering and design.
"We are really making sure that these crucial practices are at the forefront of where we're building our skill sets," Ms Warrener said. The work experience program follows on from a successful pilot earlier this year, where many of the participants included children of current NAB colleagues.
Christine Glatzel, who began her career at NAB as a software engineer almost 20 years ago, is one of the parents passing the pen to the next generation.  Christine signed her daughter Amy Price up to the pilot program. For Amy, one of the best parts was gaining some clarity around what roles in technology actually looked like.
"We got to meet a lot of the interns and learn about their pathways into technology so I guess it was really good hearing about that, because it's definitely something that I would consider doing in my future," Amy said.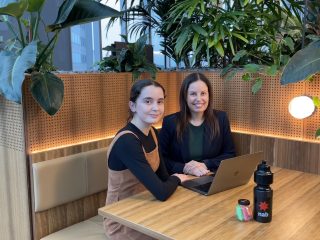 It's this exposure to NAB colleagues that Jade Warner believes will help the students make informed decisions about their future careers.
"Research continues to show us that young people make their decisions about their careers much earlier than university, sometimes as early as year 8 and 9. I hope this work experience program can help students realise the potential they can unlock if they choose a STEM career."
The STEM program is just one of many initiatives at NAB to bring more people into tech. A total of 1,059 people have joined NAB's internship program over the past five years, with 250 joining the program this year. Of that 1,059, more than 600 have been hired permanently.
For more information on NAB's tech internship program, see here: IT Intern Program – NAB