Tenacious Ventures has backed agtech-fintech startup Geora in a $1.5 million seed round to transform supply chain economics for Aussie farmers.
Tenacious Ventures is the latest venture firm to back Australian agtech-fintech startup, Geora, joined by NAB Ventures and Flying Fox Ventures to expand the group's blockchain platform for farmers and agri-supply chains.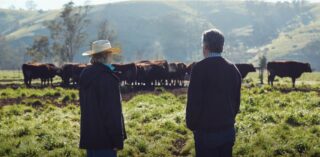 Geora's platform is the first SaaS blockchain platform in agriculture linking traceability data with financing solutions using simple, no-code digital tools.
According to Geora co-founder, Bridie Ohlsson, to meet global sustainable development goals investment along supply chains must increase by at least $2.1 trillion per annum.¹
"Our investors understand the enormous opportunity to service Australia's agribusiness industry, and the need to innovate in how we invest in agriculture so that we can support farmers in making food and fibre production more sustainable, efficient and secure," Ms Ohlsson said.
"While agri-supply chains have been heralded as the killer application for blockchain since late 2017, the tech has, in many ways, failed to live up to its promises. Blockchain solutions have been largely too technical and too expensive for those who really stand to benefit from them – potential users like the 570 million farmers globally who are critically responsible for being more sustainable across all parts of their operations."
Founded in 2019, Geora leverages traditional banking and blockchain ecosystems to provide sustainable trade and finance solutions to farmers globally.
The $1.5 million in seed capital will help bring a range of finance solutions into the Geora platform through relationships with key banking partners and the blockchain ecosystem.
Tenacious Ventures sees Geora as the base layer for delivering finance to farmers in a data-centric world.
Tenacious Ventures General Partner, Matthew Pryor said "a digitally native agrifood supply chain enables major new economic opportunities."
"Geora is providing the building blocks for a new generation of supply chain finance solutions," he said.
Geora is leading the charge away from pilots toward commercial products in the agri-blockchain space.
From tracking sustainable rayon production in Indonesia, to smallholder pig farmers in Papua New Guinea, and large grain operations in New South Wales, Geora's customers use a standard set of digital tools available in the Geora platform on a monthly subscription basis.
Information from the farm and along the supply chain is aggregated to a single asset record, stored as Non-Fungible Tokens (NFTs) on the Geora platform, a permissioned Ethereum-based blockchain. A broader technical ecosystem including integrations with agtech providers such as John Deere helps maintain data integrity to solve the "rubbish in rubbish out" problem commonly associated with blockchain technology.
Geora is currently growing its remote team, with roles available in the core developer and product nodes operating out of Sydney and Singapore.
For all press enquiries please contact hello@geora.io
About Geora
Geora provides simple and secure technology for farmer networks to track and finance agri-supply chains. Co-founders Bridie Ohlsson and Cadel Watson have been working at the junction of blockchain and agriculture since 2015. Sign up to the Geora platform today to make your data work harder for your agribusiness. For more information get in contact with our team at hello@geora.io.
For more information, visit geora.io
About Tenacious Ventures
Tenacious Ventures is a specialist agrifood tech venture firm. Tenacious Ventures supports early stage startups that are helping agriculture transition toward a carbon neutral and climate change resilient future.
For more info, visit tenacious.ventures
NAB Ventures quote
Todd Forest, NAB Ventures Executive said, "As Australia's leading agribusiness bank, we understand the agricultural industry is a fundamental part of Australia's economy and we're continually looking at ways we support the sector.
"Agribusiness customers have demonstrated they're extremely innovative in their use of technology and we think Geora's data capabilities will further help farmers and agri-supply chains prove their sustainability credentials.
"We look forward to further working with Geora, introducing the team to our customers, and looking at further opportunities to work together," Mr Forest said.
¹. According to the United Nations Food & Agriculture Organisation Future of Food & Agriculture: Trends and Challenges (p127) available at
https://www.fao.org/3/i6583e/i6583e.pdf