Australians selling unwanted or used items on Facebook Marketplace, Gumtree and other online websites are being urged to remain vigilant as new data reveals a spike in scams.
Customer reports of goods and services scams have increased 66% in the past three months.
A third of reports about these scams involved criminals trying to exploit PayID, which uses a mobile phone number, email address or ABN to send and receive money.
NAB Executive, Group Investigations and Fraud, Chris Sheehan, said scammers ramped up their efforts targeting online marketplaces in late 2022 and the problem had continued to grow.
"We are getting reports of people selling an old TV or fridge online and being inundated with identical messages from scammers wanting to purchase the item with PayID," Mr Sheehan said.
"The buyer often claims the transaction couldn't be completed because the seller doesn't have a PayID "business account". The scammer might say they've paid to upgrade the seller's account and now needs to be reimbursed.
"Scammers have realised online marketplaces can be an easy way to rip people off. They're also exploiting the fact PayID is a relatively new payment method with money being transferred instantly."
Australians lost $260,000 to PayID-specific impersonation scams last year, according to Scamwatch, but the true number is likely much higher given many scams go unreported.
Mr Sheehan said PayID was quick, safe, simple and free.
"The biggest red flag of any PayID-related scam is often if someone asks you for money to upgrade an account or to access PayID," he said.
"There are never any charges related to using PayID.
"It's also important to remember PayID will never send you an email, text or message directly as your bank registers and manages PayIDs. If you get an email, text or message directly from 'PayID' it is a scam."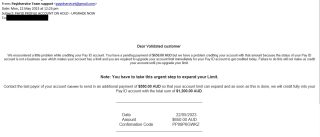 Mr Sheehan reminded all Australians to pause before hitting send on a transfer and never be pressured to make a payment.
"Digital banking is part of daily life for millions of Australians, while current cost of living pressures mean many are looking for ways to make extra money. For some people, that's through selling unwanted goods online and decluttering their home in the process," he said.
"It's critical to educate yourself about PayID, so you can see through these scams and attempts to find extra money don't actually end up costing you."
Mr Sheehan said scams were a growing global problem requiring greater collaboration across government, business sectors and the community to stop the crime before it happens.
"Customer reports of scams to NAB increased 38% year-on-year. We have more than 60 initiatives completed or underway to reduce the impact of scams," he said.
"We'll always make every attempt to prevent scams and recover funds where possible, but it can be very difficult once the funds have left a customer's account."
Note to editors:
How can you see through a PayID scam?  
Common red flags for PayID scams include:
Being asked to send money first to receive a payment via PayID.
Being told you need to take any additional action, like upgrading your account or paying additional fees, before money can be received into your bank account.
Receiving communication directly from 'PayID' via email, text, or messenger. PayID is managed by your bank
What is PayID?
PayID is a free payment method launched in February 2018. It uses a person or business' mobile phone number, email address or an ABN to send and receive funds almost instantly.
PayID allows the payer to see a confirmation screen, which include the intended payee's PayID name, before they authorise the payment.
Learn more about PayID at Fast payments with PayID | Customer support – NAB
What is a PayID impersonation scam?
PayID impersonation scams often target people selling items on second-hand websites.
The scammer will push to buy your item using PayID, but then claim the transaction couldn't be completed because you don't have a PayID "business" account.
They'll claim they've sent extra money to upgrade the account, send you a fake email as evidence and pressure you to reimburse them. But no money will ever appear in your account.
More information is available on NAB's security hub website: www.nab.com.au/security.