Investment in technology skills and capabilities is key to unlocking significant growth in the SME market according to NAB Group Executive Business and Private Banking, Andrew Irvine and NAB Group Chief Digital, Data and Analytics Officer, Angela Mentis.
Speaking at a Trans-Tasman Business Circle lunch in Melbourne, Mr Irvine and Ms Mentis said NAB remains optimistic for economic stability and growth in Australia, while SMEs continue to look for ways to address some of the ongoing challenges in the market.
Mr Irvine, who has been spending lot of time with businesses across Australia, said SMEs are resilient and will experience economic challenges in different ways.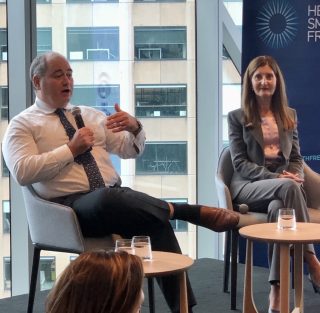 "Business investment and conditions have remained strong and while we expect the growth outlook to be more modest, there is still a wealth of opportunity in our economy, which remains one of the strongest in the world," he said.
When it comes to how best to support business growth, Ms Mentis told the audience Australia needs to address the labour market challenges and at the same time invest in developing skills for the future.
"By 2025, more than one million Australians will be needed in technology roles according to the Technology Council of Australia. That's about 40% more skilled workers than we have today, so clearly as a nation, we need to invest in these capabilities which are core to success."
"The recent Jobs and Skills Summit was an important step forward, and there's much we can do, whether that's through skilled migration, workforce participation or reskilling people to help them with new careers, which is something we've been focused on at NAB," she said.
As Australia's largest business bank, the pair also outlined the importance of data and digital capabilities to a modern economy in driving business success. While businesses want their financial provider to be simple to deal with through frictionless technology, the age-old skill of relationship banking remains more important than ever.
"We are in the business of selling trust," Mr Irvine said.
"Customers have choice, if you don't demonstrate care, passion, diligence and a reliable experience when they need it, trust is quickly eroded. This is something we're incredibly focused on at NAB.
"Strong relationships mean continuously engaging with customers, developing and personalising new solutions and being there for the good times and bad."
Mr Irvine also highlighted investments in its core business banking franchise which deliver safe, digital and seamless experiences.
"Our QuickBiz platform enables NAB customers to apply for and have up to $250,000 in their account in 15 minutes, and we're launching NAB Easy Tap which turns a mobile phone into a payments device, in an Australian first.
"It's all about simple solutions where technology can help, while keeping very focused on relationship where it matters most," he added.
To deliver experiences like these, Ms Mentis reinforced the importance of using data well to drive insights and personalisation.
"My job is to make that digital experience, human," Ms Mentis said.
"How do we use everything we know about our customers to ensure we can provide them the support and insights they need, when they need it."