Proudly Australian owned, Built prides themselves on improving the way projects can be built and challenging themselves to unlock complex problems.
"Built has been on a journey delivering sustainability results for our clients and really carving out a leadership position for ourselves in sustainability over the last 11 years," says Joe Karten, Built's Head of Sustainability and Social Impact.

"We love the opportunity to embed sustainability and social impact into the work that we do."
The new normal
Built, is constantly rethinking and reimagining what good environmental practices look like on their projects.
"We're learning how we can put more sustainability into projects than we were contractually obligated to deliver," says Joe Karten.
Whitney Forse, Built's Project Manager for Atlassian Central, a collaboration with co-owners Dexus and Atlassian, relishes in the ability to deliver new technology and at the same time help businesses hit their sustainability targets.
"There are a few things that make Atlassian Central really special," she says.

"It is leading the way in a lot of sustainability initiatives. But beyond that there is a 50% reduction in embodied carbon."
Ahead of the trend
As for the future of sustainability, Joe notes three main trends within the construction industry.
"Firstly, creating buildings that run on 100 per cent renewable electricity, secondly, retaining the embodied carbon in buildings and adaptively reusing existing buildings.

"And thirdly, there's a strong movement to bring nature back into buildings, and with that considering the embodied nature, the impacts to nature on the materials that are used in the buildings that we deliver."
Keeping the spark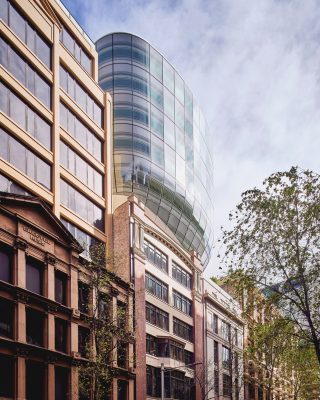 With a strong culture and track record of reducing their environmental impact throughout the entire lifecycle of a building, Built endeavours to utilise what is already in place where possible, rather than create from scratch. This is certainly the case for its head office at Sub Station No. 164.
Sitting unused for decades, a former electrical substation and its neighbouring warehouse in the heart of Sydney were relegated to the 'too hard basket' by other developers. But with a vision to breathe new life into disused buildings, Sub Station No. 164 was Built's ambitious revitalisation of the two historic CBD buildings.
Built preserved large volumes of heritage material, including floors and walls, while exposing as much of the buildings' original features as possible. And by using the original timber warehouse floors as permanent formwork for the new concrete reinforced slabs, Built was able to reduce materials and create a beautiful architectural feature.
Additional office space was delivered via a careful adaptive restoration project, floating a new glass-façade structure independently over the top of the beloved heritage structures anchored below.
And the numbers speak for themselves. During construction, the site used 100% green power onsite, diverted 90% of waste material from landfill and achieved a 97% recycling rate nearing completion. A 21% reduction in the embodied carbon footprint was delivered and a 6 Star Green Star and Platinum WELL v.2 Pilot rating achieved.