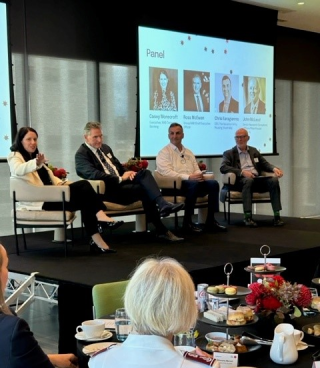 NAB CEO Ross McEwan has proposed a dramatic shortening in state planning approval processes from three to six years to three to six months to help solve the nation's housing crisis.
In a panel discussion hosted by NAB and its wealth unit JBWere on Wednesday, Mr McEwan said lengthy and inconsistent approval processes were "a major blockage" to combating homelessness and the housing shortage – a problem he has previously described as the "biggest issue" facing the country.
"I don't think there is a lack of desire from developers, funders and builders, but it would take a lot of cost out of the system if we could (reduce) the timeframe for approvals," he said. "If I'm sitting around with a property for three to six years trying to get myself through a planning process, it ends up being included in the cost of the house or the unit.
"If we can get that down to three to six months and get the shovel in the ground, that would be the one thing that makes the biggest difference."
NAB highlighted the scale of the housing crisis in its submission last Friday to the Department of Social Services' consultation on the development of a national housing and homelessness plan, in which it estimated there were more than 120,000 homeless Australians.
This was partly informed by NAB becoming the banker for the largest provider of services for the homeless, the Salvation Army, in 2022.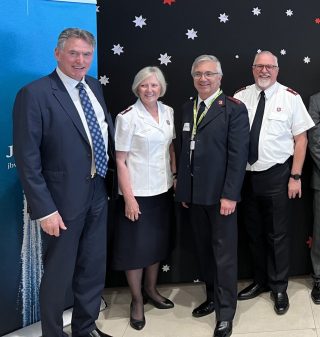 Chris Karagiannis, the charity's CEO of housing who was also on the panel, said 175,000 families were now on the Salvation Army's waiting list for housing, with the organisation providing relief to Australians in need every 17 seconds.
NAB is also working with its longest community partner, Good Shepherd, which is building a facility with 40 new dwellings in Sydney's inner-west for women aged over 55 – a group which faces a growing risk of homelessness.
Mr McEwan said these and other initiatives, such as NAB's half-share in a $135m debt facility for Lighthouse Infrastructure's purchase of recently built dwellings to accommodate up to 400 people with a disability, meant the bank was well-qualified to participate in the debate on social and affordable housing.
"We're told we can't get involved in societal issues," he said on Wednesday.
"We have to get involved in these issues, otherwise who's going to do it? But we can solve it."
While NAB had quickly consumed a $2bn allocation in 2019 to social and affordable housing, and was likely to lend a further $6bn by 2029, Mr McEwan said the challenge was broader given population trends.
NAB Economics research found last April that an additional 230,000 dwelling completions were needed each year, assuming annual population growth of 2.3 per cent and new households continued to form at the current average of 2.57 people per dwelling, based on the 2021 census.
The NAB boss noted that, in the past 12 months alone, 500,000 people had come to Australia to live.
"It hasn't made up for the people who left in COVID but it's still a big number, and we've got housing starts and completions at the lowest ebb we've seen in decades," he said.
"So those two (things) coming together don't work. It's meant that a lot of the population is really struggling with (housing)."
In addition to an overhaul of planning approval processes, NAB's submission on the development of a national housing plan backed other measures to ease the housing crisis, including the introduction of mandatory inclusionary zoning (MIZ). MIZ would ensure part of the development of rezoned land was reserved for social or affordable housing dwellings, or a cash contribution to community housing providers (CHPs) for additional social and affordable housing.
The submission also supported closer alignment with the UK funding model for CHPs, which provides certainty of rental payments to housing associations, effectively de-linking this payment from the renter's ability to make payments.
Changes could also be made to facilitate more bank funding to CHPs at a lower interest rate through Federal Government support to help meet their debt servicing costs, with state and territory governments stepping up to support for CHPs in the event of a default.
According to the submission, this would formalise a process which often occurred in practice.
NAB also encouraged the trial of state support during the construction phase through "contingent grants" to help CHPs' access a higher proportion of construction funding from banks at interest rates that reflected each state's credit rating.
Another panel participant, senior JB Were research consultant John McLeod, said philanthropy could also play a part in helping to resolve the housing crisis.
While philanthropy was a $13bn-a-year pot of money, there was a whole range of competing causes, with only seven per cent of the charity sector's income supported by donations from wealthy Australians.
"Philanthropy won't solve the whole crisis so it needs to be used well," Mr McLeod said.
Charities, he said, could make themselves more attractive targets for philanthropy by presenting opportunities to innovate, prove new models to de-risk any government involvement, enable donors to bring together the right partners by using their extensive contacts, and take calculated risks without the fear of failure.
"Governments don't like failing at things and banks certainly don't like failing at things but philanthropists can," Mr McLeod said.
"It always comes down to impact – we do this because it's the right thing but we also should do it because it's having an impact, and valuing that impact is important to get other funders there."