In March last year Scott Brandon (pictured right) was standing in his brewery on the banks of the Ovens River with his heart in his mouth.
The founder of popular Bright Brewery had already lost 20 per cent of his annual revenue over summer, as bushfires in the North East of Victoria had forced tourists to leave town. Then the global pandemic hit.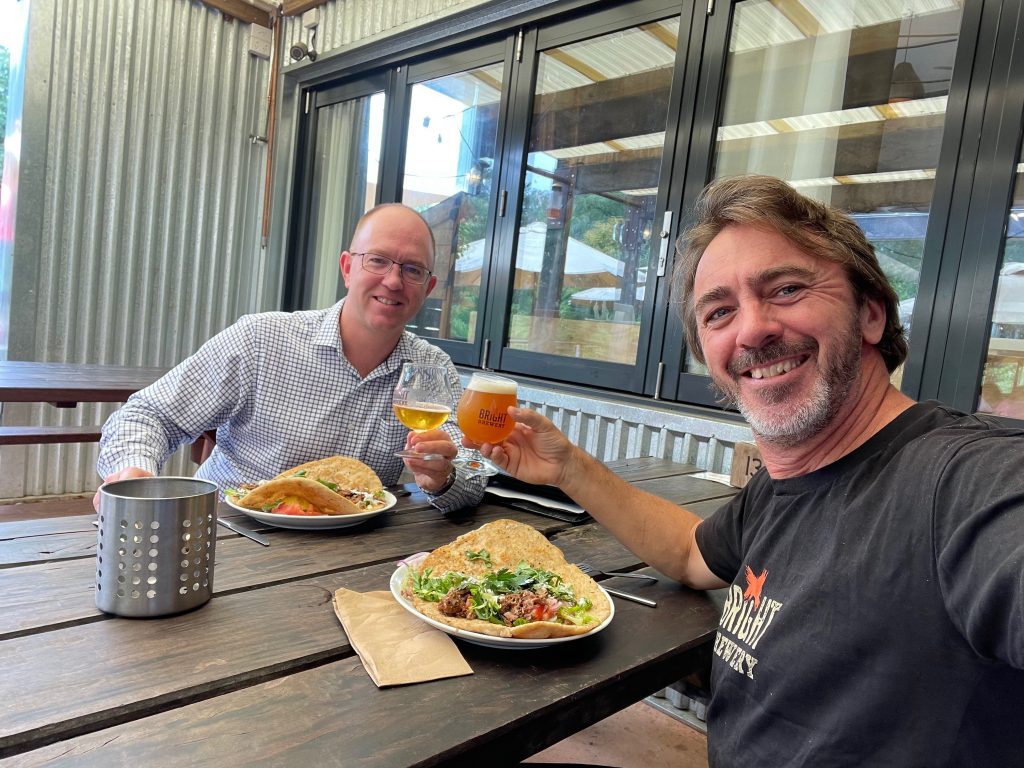 "I was thinking, 'What have we gotten into here?', we've got 32 permanent staff we need to keep paying, we've got loans to repay and we've got the cost of services," Mr Brandon said.
NAB's support managing his business loan, plus the government's JobKeeper scheme, helped to instil some certainty.
"Once I could stop worrying about the future, I could get on with running the business and innovating," he said.
When Melbournians couldn't get to Bright due to lockdown, the Bright Brewery team took their beer to Melbourne. They focussed on wholesale and online sales and delivery.
The team also created 20 new products, revamped branding and the brewery's beer club, and launched successful marketing initiatives such as 'Candemic', a mixed carton of beers from the region.
Fast forward to 2021 and the Bright Brewery had its strongest month ever in January, after a record December.
"Everyone was itching to get out of the cities, so once borders opened up we were flat out," Mr Brandon said.
A father of three, Mr Brandon is now planning to build an all-weather outdoor space at the brewery to cater for larger groups and assist with social distancing. He's also investing in a new canning production line, as he sees increasing wholesale and online sales as a way to mitigate future risk.
And he's still with the NAB banker who first backed his business 15 years ago, Neil Membrey (pictured left).
Back then, craft breweries had yet to take off in Australia and Mr Brandon was struggling to get a loan, with the business taking-shape in a tin shed.
"Neil could see our vision," said Mr Brandon. "When we talk to Neil about the ideas we have, he listens and he understands what we are trying to do.
"That makes it so much easier to get a lot of these things over the line."
Mr Membrey, a NAB senior business banking manager, always admired the entrepreneurial spirit coming through in Bright Brewery's growth.
"He's (Scott) always innovative and he looks after his staff," Mr Membrey said.
"We're really proud that we partnered with such an iconic business.
"It's helped put people in jobs and helped to put Bright on the map!"
Both are also optimistic about life in Australia and the future.
"When you see what's going on overseas, you definitely feel more confident being in Australia than almost anywhere in the world," Mr Brandon said.
And they're not alone. A new NAB Special Insight Report has found Australians have experienced a huge spike in confidence this year.
NAB Economics has been surveying Australians about "life in the lucky country" since 2017 and this year more people than ever (94 per cent) said that Australia is a great place to live. This is up from 88 per cent in 2020.
The NAB survey of more than 2000 Australians from all walks of life also showed more Australians were confident about the future. When asked if Australia would still be a great place to live in 10 years' time, 68 per cent said yes, up from only 55 per cent just 12 months ago.