NAB's executive team is out of the office and on the road for three days meeting with customers, employees and community members across the country as part of the biannual NAB Conversations tour. In the three years since it began, our leadership team has visited 49 cities and towns across Australia, around 6,000 customers and more than 4,500 employees.
On Wednesday 15 February, Chief Risk Officer, David Gall, and Chief Technology and Operations Officer (Acting), Matthew Lawrance, met with regional Queensland drinks manufacturer and NAB business customer Bundaberg Brewed Drinks.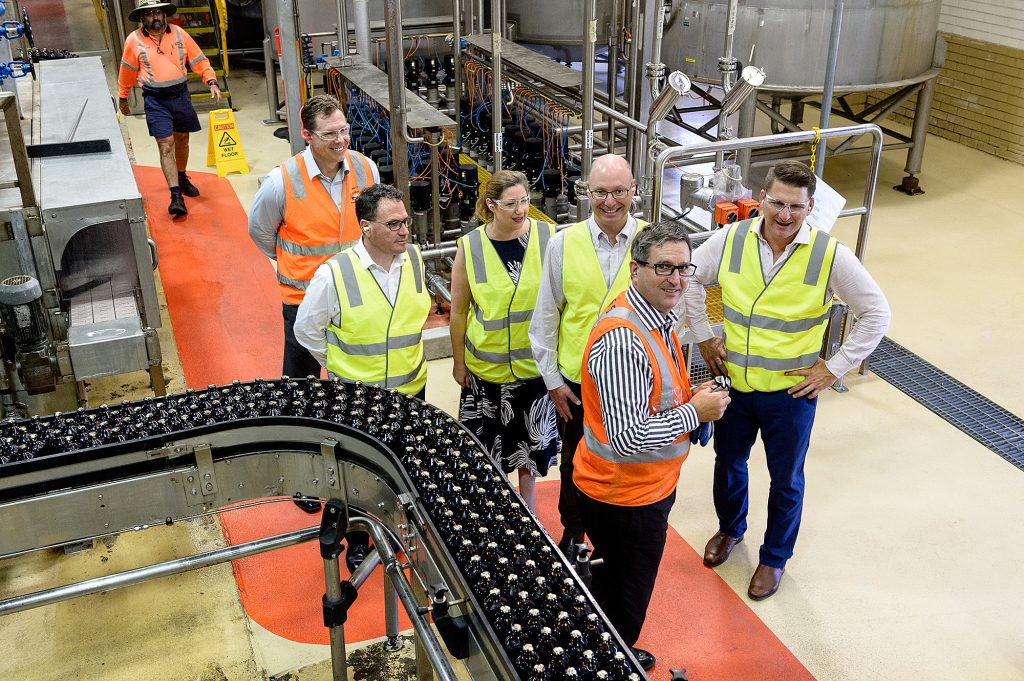 Bundaberg Brewed Drinks
Bundaberg, QLD
Describe your business?
Bundaberg Brewed Drinks is the proud manufacturer and marketer of a range of naturally brewed non-alcoholic premium beverages that are marketed and distributed in over 40 countries around the World.  Our range are all brewed from the finest ingredients available and are crafted for up to 7 days to create our unique taste and are then packaged in our iconic stubby bottle with its unique rip cap.
What's the biggest risk your business has taken that has paid off?
Our biggest risk taken to-date revolved around the securing of an upgrade to our brewery to the tune of $15M.  This investment has allowed our business to more actively pursue new markets and to dive deeper into existing established markets that previously would not have been possible.  For example, by overcoming manufacturing constraints we are now able to pursue nationwide distribution in the USA.
When has the business got things wrong, and what did you learn from this?
At one point in our history, we were going to dump our iconic bottle and change to be new and modern.  We had purchased all of the equipment to make this change, but the decision just didn't feel right.  We halted the decision and maintained our stubby bottle. The reason we didn't change was that we would have been the same as everyone else, with no distinguishing features. From this we learned to believe in ourselves, the importance of running our own game, and the importance of not trying to be the same as everyone else.  Being 'different' is great; it gives consumers something to identify with, and to stick with. It polarizes, and polarizing means that not everyone will like the outcome.  That's OK. We are not trying to be everything to everybody.  Stick to what your gut says. And believe in yourself.
What is your best piece of business advice?
Focus on what sets your business aside and become bloody minded in setting out to achieve the goal.  Don't become distracted.  Keep focused on the end result and continually work towards this, verifying along the way for correctness.
How important is your relationship with your banker?
Our relationship with our banker is a simple one; they are our largest single partner and one with whom we communicate with frequently. Our bankers need to be fully aware of where we as a business are heading, how we are getting there, and the challenges along the way. Being a global business based in a regional town can present the occasional challenge.
How do you remain relevant to consumers?
We are constantly looking to our consumers and analysing trends and feedback. Every piece of consumer feedback is gold for us, as it gives us an insight into what is important in their life. Our customer base is wide and varied, so the voice of the consumer is one we listen to carefully.
What aspect of your business are you most proud of?
For us to remain relevant, we have to look at what trends and changes are happening in our area and then be nimble enough to maintain that relevance. Today, every consumer is a media house, so building a strong trust base through remaining authentic is crucial as we continue to grow and change.