A quarter of Australians still believe now is a good time to buy a home while inflation is beginning to have an impact on renovation plans, according to new NAB research.
The latest NAB Behavioural Special Insight Report reveals the opportunities and challenges around buying property including:
One in three Australians think now is a good time to renovate;
One in two Australians renovating their home believe it's harder to complete in the past three months, with 60 per cent signalling it had become more expensive;
One in five people (18 per cent) intend to upgrade their existing home and 15 per cent plan to renovate a property in the next 12 months (18 to 29 year olds most likely to upgrade their home: 23 per cent);
Around 28 per cent of Australians think now is a good time to get a mortgage;
Around 13 per cent of Australians intend to buy a home in the next 12 months, the same as the previous quarter;
West Australians (29 per cent) and Tasmanians (26 per cent) are the most positive about buying a home, while ACT residents (30 per cent) are keenest to buy an investment property.
NAB Executive Home Ownership, Andy Kerr said house price growth was easing in 2022 and more supply was coming onto the market.
"Australians remain positive about the property market, with a quarter saying now is a good time to buy a home," Mr Kerr said.
"This is in line with last quarter, a time when it became clear price growth was slowing.
"We currently expect more subdued property price growth in 2022, with gains of around three per cent compared to 21 per cent in 2021.
"However, the market remains competitive and for many Australians buying a home can be a daunting experience.
"We're working hard to make the experience simpler for our customers, with 80 per cent now provided a decision within a day. The confidence provided by fast decisions is critical in reducing stress and supporting customers into their dream home."
Mr Kerr said the focus on budget was stronger than ever as new challenges emerged for those looking to build their dream home.
"Customers are telling us the amount they're prepared to borrow to buy a home is the most important factor," he said.
"Regardless of if you're looking to buy or renovate, it's important to ensure you can appropriately manage your repayments, both today and in the future.
"Aussies are among the most active renovators in the world and love to make a home truly their own, but it's clear rising costs have made it more difficult to budget.
"While many will still pursue renovations this year, it's incredibly important to have a buffer for the unexpected costs that are likely to pop up."
NAB Economics recently updated its NAB Monetary Policy forecasts, with the first RBA rate rise expected in August, ahead of further rises in September and November.
Is now a good time to buy? State-by-state breakdown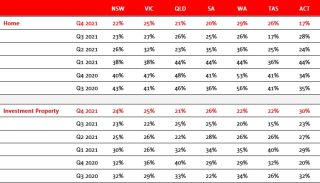 Property intentions for the next 12 months broken down by age and state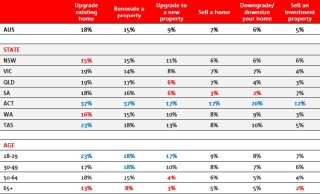 Notes to editors
·        The NAB report was conducted with about 2000 Australian adults and weighted to the population in late 2021.
·        The full survey – including state, gender and age breakdowns – can be accessed here.