Borrowing capacity tops the list of what's most important when purchasing a home, according to new NAB research out today.
More than eight in 10 property professionals (82%) surveyed in the latest NAB residential property survey said the amount buyers were prepared to borrow to buy was the biggest factor, up from 74% a year ago before interest rates started rising.
The survey also found:
·        The old adage of 'location, location, location' continued to hold true for many with six in 10 (60%) highlighting good local shopping, restaurants and other amenities as key.
·        House size was increasingly important (57% up from 50% in 2021).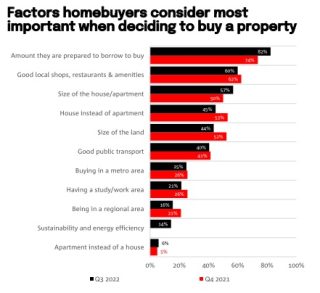 In contrast, fewer highlighted buying a house instead of an apartment (45% down from 53%), land size (44% down from 52%), having a work or study area (21% down from 26%) or being in a regional area (16% down from 21%) as key considerations.
NAB Executive Home Ownership, Andy Kerr said the market is starting to see a shift as Australians consider affordability in a rising rate environment.
"A trend we are seeing emerge from the pandemic is more Aussies considering apartments over houses for the first time since the survey began, driven by return to office working and caution on borrowing amounts," Mr Kerr said.
"Affordability and rising interest rates are absolutely part of the equation for home buyers. In a rising rate environment, where people are uncertain on when the rising rate cycle will end, Australians are more cautious on what they can afford.
"In terms of being able to pay a loan, it's important to remember that banks ensure customers can appropriately manage their repayments should interest rates rise.
"We know there are some people who are feeling the pressure of rising interest rates. For anyone who is concerned please get in touch with your bank, we are here to help."
"Australians are also starting to think about what the balance of their working week will look like as we return to the office more often.
"Location is still one of the most critical buying factors and flexible working is here to stay, so where Aussies buy continues to be important. We all love walking to our local café or shops and this has continued to be a trend in the survey."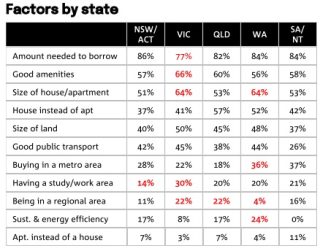 Note to editors:
·        The Q3 2022 NAB residential property survey was conducted with 350 Real Estate Agents/Managers, Property Developers, Asset/Fund Managers and Owners/Investors across Australia.
·        Responses did vary by state, with key differences including the higher number in Victoria pointing to good local amenities (66%), having a study or work area (30%).
·        In WA the size of the house (64%) was a key factor while in QLD, buying in a regional area (22%) remained important.
·        Also apparent was the higher number in WA who identified buying in a metro region (36%) and sustainability and energy efficiency (24%).
·        Fewer property professionals in Victoria also highlighted the amount buyers were prepared to borrow to buy (77%), in NSW having a study or work area (14%), and in WA being in a regional area (4%).