NAB has today extended the availability for $1,000 grants until 22 November, to assist customers severely affected by flooding in officially declared disaster areas of Victoria, NSW and Tasmania.
The grants will remain available to customers for a further two weeks and will provide ready access to funds for those experiencing major structural damage or severe internal damage to their property, to meet their immediate needs.
This includes business and agriculture customers who have suffered severe damage to property, equipment, fencing – or loss of stock or livestock.
Grants are available to customers who have suffered significant damage to their primary place of residence. Grants are not available for minor damage to homes or for damage to personal items and appliances, sheds, garages, gardens, or loss or damage to investment properties or holiday homes.
NAB Executive Retail, Krissie Jones, said some flood-affected communities were still experiencing worsening conditions and the bank was here to help.
"The flooding in parts of NSW and Victoria has worsened over the past week with emergency warnings impacting a number of communities," Ms Jones said.
"Flood levels in many locations were expected to peak across the weekend and as a result, we will continue to make sure anyone affected can get the support they need."
In addition to $1,000 grants, NAB is offering customers severely affected by flooding, loan deferral or reduced payment arrangements, and waiving of some fees or charges relating to their accounts.
NAB has also donated $100,000 to Disaster Relief Australia, to fund 'mud-army' recovery operations that assist with the clean-up.
NAB colleagues are already volunteering with DRA in clean-up areas, including in Rochester where NAB's Sarah Bailey, a former Shepparton local, was proud to contribute to the clean-up effort in an impacted community near her hometown.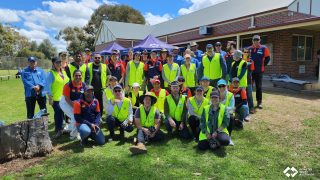 "I grew up in Shepparton and know what it means to the local community to have people come and help when it's most needed", Ms Bailey said.
"We worked as a team to clean out houses, sheds and yards that had been completely inundated with flood water. A lot of people have lost everything so it's important that we could help in some small way with the recovery effort."
Members of the community can also volunteer for the Disaster Relief Australia 'mud-army' or donate to support clean-up efforts at https://nab.benevity.org/adm/community as part of NAB's national fundraising campaign for those impacted by the floods.
How to apply for NAB customer support
NAB customers who live in officially declared disaster areas, as listed by the Department of Home Affairs' Disaster Assist website may be eligible for grants and other customer support. All enquiries will be assessed on a case-by-case basis and require evidence showing significant property damage.
Customers can apply online at nab.com.au/common/forms/disastergrant.
For further assistance customers can call NAB Assist on 1300 308 132 or 1300 769 650 for business customers.
NAB customer grant applications will be open until 22 November 2022 and will provide initial support of up to a total of $1,000,000. Any further customer support measures will be considered as the situation evolves.