NAB has completed a significant milestone in its branch transformation program, with the transformation of 150 locations under the Bank's ambitious plan to revitalise its physical network.
Since kicking off in October 2019, the team at NAB have been busy making changes across branches that reflect the way people bank today. Since starting, local tradespeople have laid more than 37,500m2 of flooring, rolled on 20,000 litres of paint, and installed more than 300 iconic NAB red stars at 150 locations across the country, despite COVID-restrictions hindering efforts.
In addition to being the 150th transformation, the Victoria Park location is also Western Australia's first new small format location, and the 11th small format location of its kind nationally.
At the opening of Victoria Park, NAB Executive Retail Libby Greenwood said that digital savvy customers are no longer visiting a branch to withdraw cash, deposit a cheque or to pay a bill.
"More and more our customers are completing common transactions when it suits them online. Our new branch design responds to this trend with spaces dedicated to when our customers need more one on one time."
Head of NAB's transformation program, David Banks points out that with 94 per cent of customer interactions occurring online or through the app, the bank has had to review the role of the branch in banking.
"Our new branch design is perfect for in-depth conversations between a customer and their banker."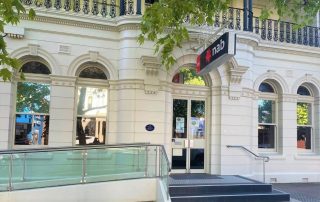 "As with all our refurbished and new locations, customers at the newly completed Victoria Park location will benefit from meeting spaces with video conferencing facilities and a digital bar that provides guidance on the ways to do everyday banking. Deposits and withdrawals will also be able to be easily done with self-service machines."
As part of the program, NAB continues to also invest in regional and rural locations, with around half of transformations taking place in regional communities across Australia. Unlike a shopping centre or a capital city location, there are often additional heritage considerations to take into account when planning the investment.
NAB Network Transformation Consultant Shane Whatman knows firsthand the challenges of revitalising our older, and often heritage listed country branches.
"We occupy some wonderful spaces in regional and country towns that are often over a hundred years old.  It's important that we take in to account the heritage requirements of these beautiful spaces, whilst also being able to offer the latest digital banking solutions.
"Benalla in Victoria and Corowa in New South Wales are two recent transformations that I'm particularly proud of, as we've been able to highlight the wonderful heritage features of these buildings whilst also incorporating the latest designs and technology that our customers want."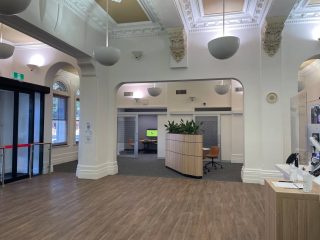 NAB's relationship with Australia Post also means customers can do fee-free transactional banking like check account balances, pay bills, or deposit and withdraw cash at more than 3,500 Australia Post outlets nationally.
Victoria Park joins 11 other smaller format locations in Casey, Collins Arch, Clyde, Geelong Malop St, 395 Bourke St, and Waurn Ponds in Victoria, Barangaroo and Crows Nest in New South Wales, Ashgrove in Queensland, and Port Adelaide in South Australia.  A further six are currently in the planning stages and are expected to open just before Christmas 2022.  These are planned for Mentone and Point Cook in Victoria, Mosman and Tweed Heads in New South Wales, Whitfords in Western Australia, and Marion in South Australia.
Completed transformations
| | | |
| --- | --- | --- |
| 1.    255 Queen St | 2.    330 Collins Street | 3.    333 George Street |
| 4.    395 Bourke St | 5.    535 Bourke St | 6.    Adelaide Markets |
| 7.    Adelaide Office | 8.    Airport West | 9.    Armidale HUB |
| 10. Ashfield | 11. Bankstown BBC # | 12. Ashgrove |
| 13. Hornsby BBC | 14. Auburn | 15. Penrith BBC |
| 16. Bankstown North Terrace | 17. Barangaroo | 18. Batemans Bay HUB |
| 19. Belmont | 20. Chermside BBC | 21. Benalla |
| 22. Bentleigh | 23. Berwick | 24. Booragoon |
| 25. Brandon Park | 26. Brimbank | 27. Broadmeadows |
| 28. Brookside | 29. Burleigh Heads | 30. Byron Bay |
| 31. Cairns Central | 32. Cairns HUB | 33. Indooroopilly BBC |
| 34. Parramatta BBC | 35. Camperdown | 36. Canberra City |
| 37. Caringbah | 38. Casey Central | 39. Chadstone |
| 40. Chermside | 41. Childers | 42. Chinatown |
| 43. Chinchilla | 44. Claremont | 45. Clifford Gardens |
| 46. Clyde | 47. Cobram | 48. Coffs Harbour HUB |
| 49. Collins Arch | 50. Corowa | 51. Crows Nest |
| 52. Dandenong Plaza | 53. Doncaster East | 54. Camberwell BBC |
| 55. Doncaster | 56. Hobart BBC | 57. Earlville |
| 58. East Maitland | 59. Eastern Branch | 60. Eastgardens |
| 61. Echuca HUB | 62. Erina HUB | 63. Fortitude Valley |
| 64. Fountain Gate | 65. Geelong Malop St | 66. Geelong West |
| 67. Preston BBC | 68. Gisborne | 69. Gympie HUB |
| 70. Helensvale | 71. Hobart | 72. Hornsby |
| 73. Dandenong South BBC | 74. Ipswich Riverlink | 75. Karrinyup |
| 76. Kerang | 77. Kiama | 78. Niddrie Central West BBC |
| 79. Kyabram | 80. Lake Haven | 81. Launceston HUB |
| 82. 60 Martin Place | 83. Liverpool | 84. Loganholme |
| 85. Mackay HUB | 86. Macksville | 87. Malvern |
| 88. Mandurah | 89. Manly | 90. Marrickville |
| 91. Mascot | 92. Merrylands | 93. Mirrabooka |
| 94. Modbury | 95. Macarthur & Highlands BBC | 96. Morayfield |
| 97. Morley | 98. Mount Ommaney | 99. Mulgrave Waverley Gardens |
| 100. Nagambie | 101. Newcastle HUB | 102. Newtown |
| 103. Northland | 104. Norwest | 105. Nowra HUB |
| 106. Oakleigh | 107. Orange HUB | 108. Oxford Square |
| 109. Parramatta | 110. Penrith | 111. Pitt & Bathurst |
| 112. Pitt & Hunter | 113. Plenty Valley | 114. Port Adelaide |
| 115. Port Macquarie HUB | 116. Preston | 117. Queens St Mall |
| 118. Richmond | 119. Rockdale | 120. Rockhampton Nth |
| 121. Rockingham City | 122. Rosebud | 123. Roselands |
| 124. Rouse Hill | 125. Sale HUB | 126. Smithfield |
| 127. South Yarra | 128. Southland | 129. East Maitland BBC |
| 130. Southport HUB | 131. St Marys | 132. Strathpine |
| 133. Sunnybank Plaza | 134. Tahmoor | 135. Tamworth Hub |
| 136. Taree HUB | 137. Thuringowa Central | 138. Thursday Island |
| 139. Toowong | 140. Torquay | 141. Tuggerah |
| 142. Ulladulla | 143. Victoria Park | 144. Watergardens |
| 145. Waurn Ponds | 146. Mount Waverley BBC | 147. Eastern Ranges BBC |
| 148. Wendouree / Delacombe | 149. Williamstown | 150. Woden |
| # BBC: Business Banking Centre | | |