After having recorded its highest business lending growth since the Global Financial Crisis, NAB's Business and Private Bank is focused on its winning strategy of building strong relationships with customers and offering unrivalled service.
Considering the bank's half year result, Andrew Irvine, Group Executive for Business & Private Banking said the result clearly reflected the success of the businesses NAB's team support.
"Our success is ultimately determined by the success of the businesses we back.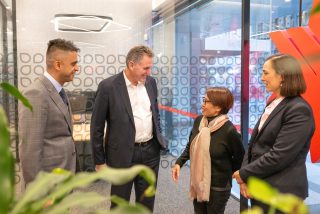 "Our result at the half year point has us determined to double down on investments we've made in having more bankers on the ground than any other bank and delivering services which keep our customers on top."
Recent business surveys indicate business conditions and confidence are above the long-term average and business credit is forecast to grow at the highest levels since the 2008 financial crisis.
Over the past six months, NAB's Business & Private Bank has invested heavily in digital capability to make life easier for business owners, a dramatic improvement in 'time to yes' and more bankers in more locations across Australia.
Highlights delivered by the team over the last six months include:
More bankers in FY22 including roles specialising in transactions and payments
Quickbiz rebooted to provide small business customers access to unsecured lending and business cards within minutes
'Time to yes' for lending decisions reduced by more than 50% through a simplification of the bank's processes and increased digitisation
New payments capabilities to make sales easier for businesses owners through digital enhancements to HICAPS for medical professionals and NAB Hive analytics for small businesses.
"At this half year point, we have seen strong lending growth valued at $124 billion across the division and growth in key specialisations including 14% in small business, 7.4% across wholesale trade and manufacturing, 6.2% in agriculture, 6.4% in commercial real estate and 4.1% in health.
"We've established great momentum and are poised for further growth, especially with the significant increase we've seen in the opening of new business accounts over the last year which is up 36%.
"This is a brilliant time to be in business and an even better time to be the bankers behind Australia's entrepreneurs."