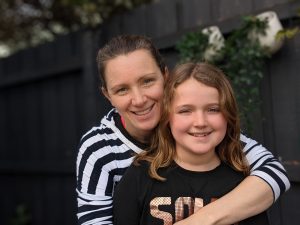 When NAB Head of Everyday Banking Experience, Sarah Strain, met with the founders of fintech startup Spriggy a few months ago, she walked away certain that NAB should back them.
NAB already had some tools to teach customers about financial literacy, but they were all focussed on adults. "When we worked on a roadmap for financial literacy it was obvious there was a real gap," Ms Strain said. "We could have spent a long time building something, or look to partner with somebody who nails it. And Spriggy nails it," she said.
Spriggy founders Alex Badran and Mario Hasanakos have created a mobile app and prepaid card that helps families to teach their children how to save in a digital world and spend their own money – with parental limits and guidance.
One of the reasons Ms Strain was so enthusiastic was that she and her kids had been regular users of Spriggy's digital family finance tools for years.
"Two of my three children have Spriggy," Ms Strain said. "My 11-year-old and eight-year-old kids love it, and I'm not far off introducing my five-year-old to it," she said.
"Spriggy helps teach kids about money and does it in a way that gives them real life experiences," she said.
Ms Strain's children earn $5 per fortnight for jobs like making their beds each day. They can earn $2 for extra jobs like sweeping up leaves. "If I'm honest the $2 variable reward is patchy, but when they want something, they understand they need to work for it," Ms Strain says. "The kids don't get their money immediately – they have to wait for 'pay day' just like us adults," she said. "They also decide what to spend and what to save for a bigger goal like an iPad or a new bike."
The children can then use the linked Spriggy prepaid card in shops and cafes, using only the amounts they've allocated for spending.
Spriggy today announced the company has raised $35 million in its latest investment round led by NAB Ventures, with investments also made by Grok Ventures and Perennial Value Management.
The new capital will fund Spriggy's growth, tripling the team over the next year to solve more of the spending, saving and investing challenges that parents navigate in raising financially healthy kids.
More than 500,000 parents and kids have already joined Spriggy and more than 3 per cent of Australian families are using Spriggy every month.
NAB and Spriggy will work together to reach more Australian families with financial education experiences.
Research commissioned by NAB this month found only half of the Australian adults surveyed felt they knew a lot about financial products and services.