Following a successful pilot in 2019, NAB has expanded its Neurodiverse program this year, bringing on four additional autistic interns into the technology team.
The program aims to create an environment where autistic people are genuinely recognised and supported to achieve their best and develop the skills and confidence to sustain an IT career. It has already shown the value of bringing new, diverse and representative tech talent into NAB's workforce.
Finding the right career for the right skills
One intern, Nicole Park, works as a front-end developer.
"It's been amazing to get an opportunity to work with NAB through the neurodiverse program. The support I've had has been exceptional. It's great to be recognised for my skills and valued because I think differently," she said.
Nicole said working in tech at NAB complemented her personality traits.
"I love working in tech because it always has clearly defined outcomes and that really suits me. I know if I plug something into the computer, there's a certain number of variables that I can expect each time. Coding is predictable, and if you do it correctly, it will always work."
Prior to NAB, Nicole spent a number of years working as a Chaplain based in a youth community centre and aged care. She loved her experience there, but felt it was unsustainable.
"With autism, my brain works a little differently and being a chaplain just wasn't a long-term career. Trying to engage socially 100 per cent of the time was overwhelming at times. So I went back to my first love of tech and IT. I've only been at NAB for a few weeks, but I'm learning so much and feeling a sense of community and purpose here. I'm excited for my future."
Leader led support for neurodiverse talent
Vanessa Weaver, Head of Technology, Financial Crime Fraud at NAB is responsible for two interns currently working in fraud technology squads.
"Fraud continues to be one of the biggest challenges in an increasingly digital world, and we always need the best-in-class talent to combat fraud and help keep our customers and colleagues safe," says Vanessa.
"Our neurodiverse interns bring a tenacity and attention to detail when they are building fraud solutions across our systems. Their technical skills in addition to their determination and diligence is invaluable in getting the job done."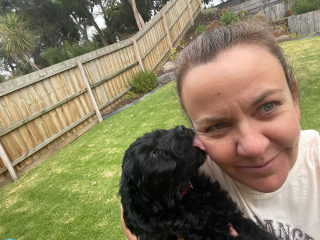 NAB partnered with Untapped to bring on valued neurodiverse interns into the company. Vanessa says working with Untapped and having autistic team members has also helped her and her leadership team to become better mentors.
"Being a part of the Neurodiversity at NAB program and undertaking the autism awareness training has helped us to become more empathetic and mindful of individual needs. We've seen high engagement scores, not just from our autistic colleagues but from the entire team," Vanessa said.
"Our autistic team members also make us aware of any gaps in our internal onboarding processes and with the help of Untapped, call it out when things aren't going well or if something is causing them angst. This helps us improve arrangements for all new starters."
The Neurodiverse program joins a string of initiatives from NAB to encourage more Australians to consider a career in tech, including NAB's technology internship program and Return-to-Work program. With 1,500 technologists needed at NAB this year, these programs help to close the growing skills gap.
If you're interested in NAB's Technology Internship program, check the Tech Careers page here.
This Saturday marks the 15th annual World Autism Awareness Day, a reminder for us all to contribute to a world where autistic people can reach their full potential.