NAB research today reveals that while Australians are generally coping well financially and making ends meet, one in five say they have felt financially stressed in the last 90 days.
On average, Australians scored a modest 4.4 pts out of 10, where 10 signals they are struggling very much. One in two low-income earners also said they faced some form of financial hardship in the past three months.
NAB Group Executive Personal Banking, Rachel Slade, said while most customers were in a good financial position, the average masked some pockets of concern.
"70% of NAB customers are ahead on their home loan payments but we do know there are some people who  are feeling the pressure of an increased cost of living," Ms Slade said.
"This research brings to life exactly the concerns customers are raising with our NAB Assist team."
Ms Slade said the survey of 2,050 Australians shows that financial difficulty can show up in a range of ways.
"Finding yourself in financial difficulty can mean being unable to pay a bill, cover rent on time, meet minimum credit card payments or being unable take care of medical expenses," she said.
"Regardless of what challenges you are coming up against, if you are feeling financial pressure, we want to talk with you.

"When customers get in touch with our NAB Assist team early, we see that 90% of our customers are back on their feet within 90 days."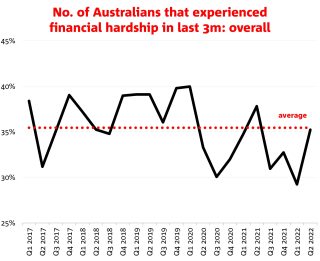 The number of Australians who said they experienced financial hardship over the past three months was 35%, up from a survey low of 29% in Q1, March, April and May.
By income, a much higher number of people on low incomes (around $35,000 pa) didn't have enough for an emergency (31%), food and necessities (26%) or were unable to pay medical and healthcare bills (16%).
Making ends meet was also somewhat more challenging for Australians living in regional cities (4.7 pts) and rural areas (4.7 pts) than capital cities (4.2 pts), where living costs are traditionally higher though the gap has narrowed with the rapid growth in migration from city to regional areas seen in recent years.
Majority of those experiencing financial pressure turned to family and friends to borrow money and used credit cards more often, while one in 10 turned to a payday lender.
"Don't hesitate. If you have concerns about your finance, get in touch. We can offer a range of support measures such as payment breaks or a reduction in payments, referrals to financial counsellors and mental health counsellors," Ms Slade said.
"Our objective is to get you back on your feet as soon as possible and our award-winning NAB Assist team is available whenever you are ready to talk."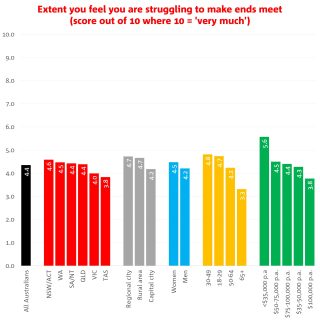 NAB customers can apply for hardship support online at www.nab.com.au/financialhardship and if eligible receive an outcome on the spot. Alternatively if they would like to talk, they can call 1800 701 599 (personal customers) or 1300 961 577 (business customers).
Notes to editors:
• The research was conducted by NAB Economics and was based on the survey responses from
2,050 Australians weighted to the population, conducted over the period 18-26 May 2022.
• Table 1 (black line) shows answers to a question based on experiencing financial hardship.
• NAB has a broad measure of "financial hardship" based on the number of Australians who identify
with any one of eight hardship drivers (i.e. not having enough for an emergency; for food & basic
necessities; being unable to pay a bill; medical/health bills; rent on time; pay off personal loans; meet
minimum credit card repayments; or pay their mortgage).
• Table 2 (coloured bars) shows answers to a question based on the extent survey respondents felt
they experienced financial stress.
• Of those Australians who indicated they were struggling 'very much' (i.e. scored 8 pts or higher):
• The highest number were in Western Australia (20%)
• The lowest number were in South Australia/Northern Territory and Tasmania (15%)
• More women (19%) than men (16%) said they were under pressure
• The results by age, it ranged from 17% (18 to 29 year olds) to 12% (over 65s)
• Many social impact organisations and the Barefoot Investor use $2,000 for an emergency as a
measure of financial health.