By Rachel Slade, NAB Group Executive Personal Banking
Australians are looking for ways to take greater control of their finances following the global pandemic and the economic shock it created. They are also increasingly embracing digital banking. Here are five interesting developments that we're seeing our customers adopt with enthusiasm.
1. Appointments from the comfort of your own home
Like many businesses, banks needed to adapt to help their customers during this time of immense change. Before the pandemic hit in 2020, no NAB home lending appointments took place via video. Now, more than 25 per cent are held over Zoom – that's thousands of conversations over video every month. The overseas experience has shown that some banks are seeing 80 per cent of appointments over video so it's a trend we expect to endure.
In September, we launched an online home loan appointment booking tool, so customers can book the time and place that suits them best, whether that's in branch, via video, over the phone or a visit from a mobile banker. Most of the time customers can get an appointment within an hour and it's as simple as booking a table at a restaurant. In a strong housing market, quick access to support becomes even more important.
2. Simpler home loans
Buying a home can be a daunting experience for many Australians and we are working hard to make the experience simpler for our customers. Recent changes to simplify and speed up the time it takes for a home loan approval have reduced our 'time to yes' by 30 per cent, with some customers gaining unconditional approvals in less than an hour. By the end of September, we expect to be giving unconditional approvals to 1 in 3 customers within the hour!
The confidence provided by fast decisions is critical in reducing stress and supporting our customers get their dream home in the competitive housing market. We aim to make 60-minute unconditional approvals the norm.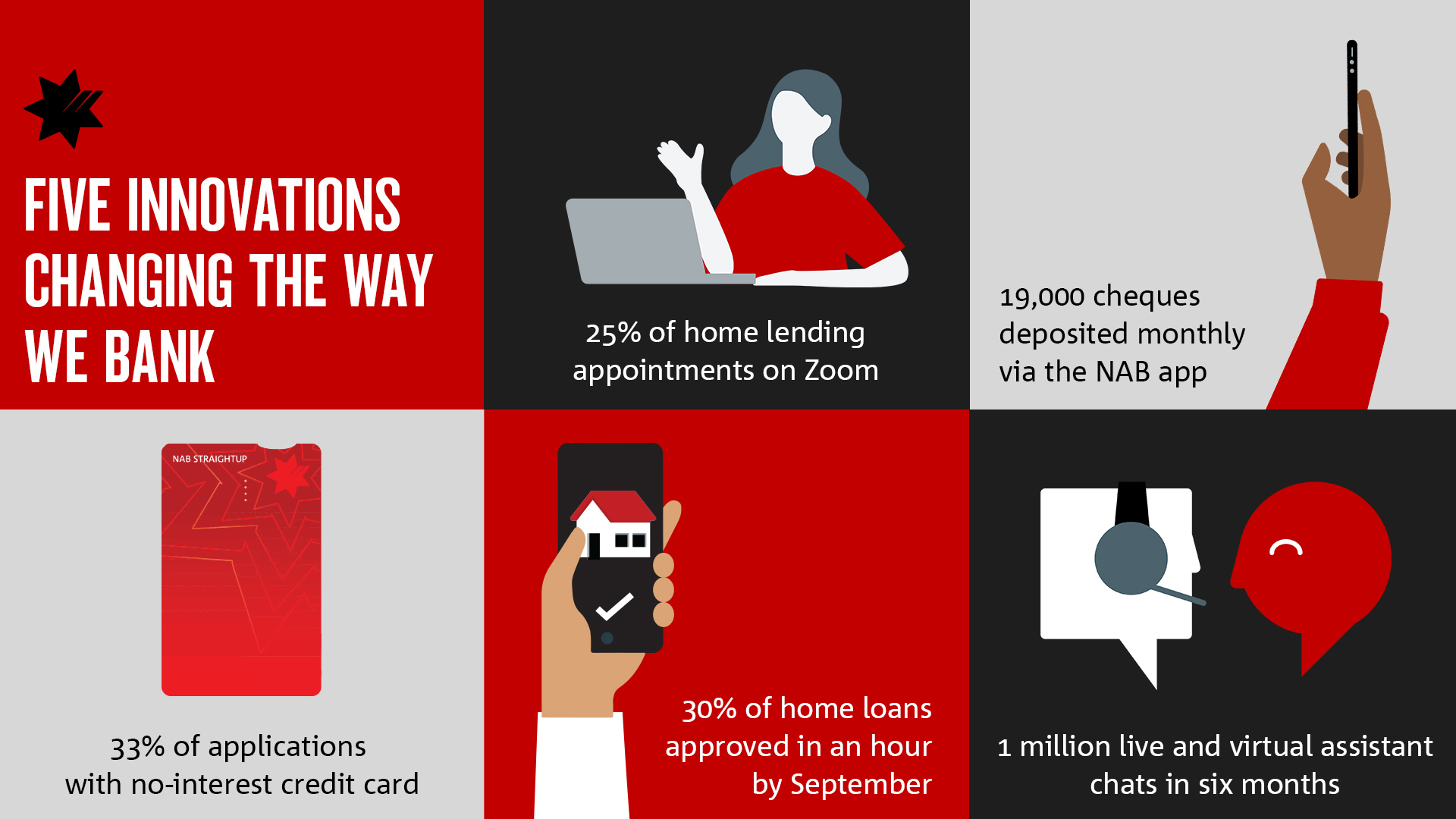 3. A new type of credit card: StraightUp
In recent years there has been a lot of talk about innovation in the credit space, but not the credit card space. But last September NAB launched Australia's first-ever no interest credit card. StraightUp reimagines what a credit card could be in response to customers wanting more control over their finances.
The new credit card is easy to understand, with no annual fee, no late payment fees and no foreign transaction fees.
Customers have responded positively, with StraightUp representing a third of all credit card applications.
4. A simpler, better app
The proportion of Australian consumers using a mobile banking app increased from 35 per cent in March 2019 to 59 per cent in September 2020, according to recent RFi Group research. We know NAB customers want more control at their fingertips. Digital receipts, mobile cheque deposits and the ability to fix your home loan rate are all now possible on the NAB app.
We are the first major bank to join forces with Australian fintech Slyp to make paper receipts a thing of the past. Customers can opt into digital receipts and when paying with a card at a participating retailer, the receipt will be delivered straight into the app.
Over time we expect the physical receipt, like cheques, to steadily go out of fashion. But on the odd occasion where you might receive a cheque, NAB customers can now bank it from anywhere. Simply use your phone to take a photo of the cheque and deposit it via the NAB app (up to $5,000 over seven days).
Home loan customers are also noticing plenty of change with the ability to immediately fix (or re-fix) their interest rate, amend a direct debit, vary key aspects of a loan and work out how much equity they have in their property, with just a couple of clicks.
5. Chat with your fingers
With more than 16.5 million Australians actively using Facebook every month, NAB is using popular messaging platforms WhatsApp and Facebook Messenger to give customers instant answers.
Over the past 6 months we have had more than 1 million live and virtual assistant chats with our customers. In November we also became the first bank in Australia to launch Google Messaging and one of the first major banks globally. Since launch we've had more than 5,000 conversations through this platform.
There's been plenty of change over the past 12 months. We are working hard to find the next innovation that will keep make banking simpler and easier for our customers.