New NAB research shows just over 70% of Australians currently live in a location they love.
Among them, four in 10 (41 per cent) purchased a property in the area they want to live, while around two in 10 rent and one in 10 live with family in their preferred location.
In contrast, three in 10 Australians don't currently live where they really want. Among the 30 per cent, there is an even split between those who have bought, rent or live with family in a location that isn't a preferred choice.
NAB Executive Home Ownership, Andy Kerr said the past 18 months had shown us that having the right lifestyle is a key factor for Australians.
"For potential home buyers, it's really important to be comfortable with the trade-off between buying a home within budget and the lifestyle you're looking for," Mr Kerr said.
"I would encourage Aussies to consider if you are working two or three days a week in the city, what does that look like in six or 12 months' time? The world continues to change so make sure you're reflecting what hybrid working may look like in the future, particularly as our CBDs come back to life.
"Doing your research is also important. It's invaluable to have a good sense of what's going on in the market. Buyers can then be well-armed when they do go to bid on the home they want.
"Our NAB home lending specialists are able to provide valuable insights on the property market and are ready to take customers through the application process and it's as easy as booking a table at a restaurant.
"At NAB we're really focused on service and we are seeing customers recently who have been able to get a loan unconditionally approved in two days. The one thing we are seeing with technology, you can go book an appointment over video and more than 40 per cent of our home loans appointments are now done by video.
"Within 30 minutes you can be talking to a banker and within a day you can be unconditionally approved. You can come to NAB on a Thursday and be ready to bid at an auction on the Saturday. Having that certainty quickly helps in a hot market."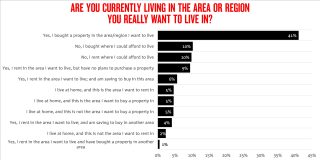 State by State
The number of people living in the area or region they want to live in differs by state. Overall, 76 per cent in QLD and 74 per cent in SA currently do, but this falls to just 61 per cent in Tasmania, 67 per cent in NSW and 68 per cent in the ACT.
Specifically, those who bought and live in a property in their preferred area was highest in QLD (49 per cent) and WA (49 per cent), and lowest in NSW (34 per cent).
Is now the right time to buy?
NAB data also shows the number of Australians who think now is a good time to buy a home fell for the third consecutive quarter to just 25 per cent in Q3, down from 29 per cent in the previous quarter.
The number who thought it was a good time to buy an investment property also moderated to 23 per cent, from 25 per cent in the quarter and 31 per cent at the same time last year.
While house price growth is expected to slow next year, the number of Australians who intend to buy a home in the next 12 months fell slightly to 13 per cent (14 per cent in Q2). This figure is highest in the ACT (18 per cent), Victoria (15 per cent) and NSW (14 per cent) and lowest in Tasmania (6 per cent).
"Affordability has been a concern in 2021 with house prices up around 25 per cent, but we are seeing the early signs of prices easing as supply comes back on to the market," Mr Kerr said.
"In October, we saw Melbourne and Sydney both ease month-on-month from their peak growth in March. NAB's forecast is for the market to be strong until the end of the year and a more subdued market in 2022.
"Suburbs closer to the city, with easing prices will become an option that we really haven't seen to the same extent the last 12 months. We are seeing little green shoots of people returning to inner-city suburbs, looking for the balance of lifestyle and value."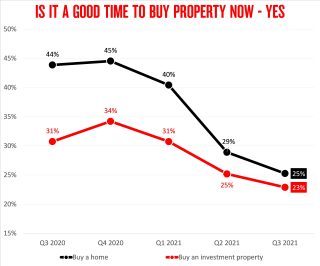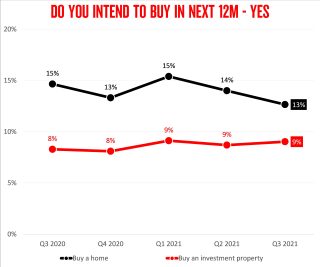 For further information:
Media
Calum Young                                                           NAB Media Line 
M: +61 (0) 472 863 630                                              P: +61 (0) 3 7035 5015