NAB has today released its 2023 Half Year Results to the market.
NAB CEO Ross McEwan said Australia's biggest business bank has delivered a strong performance and remains focused on the disciplined execution of its strategy.
"We have delivered a strong 1H23 financial performance with cash earnings up 17.0% compared with 1H22 and all businesses contributing to underlying profit growth of 25.5%," Mr McEwan said.
"Our results have benefitted from the execution of our strategy over multiple years. This includes consistent investment in long term growth opportunities, while making choices for more targeted growth against the backdrop of a slowing economy and increasing competition. The higher interest rate environment has also been an important near term driver of revenue this period.
"Staying safe and maintaining prudent balance sheet settings has been a key strategic focus which positions us well for the risks and volatility stemming from recent rapid monetary policy tightening.
"Capital levels are above our targets, liquidity is strong, collective provision coverage remains well above pre COVID-19 levels and our FY23 term funding task is well advanced with $23 billion raised in 1H23.
"The impact of higher living and interest costs on household spending and the broader economy is becoming more evident and we have a range of options available for customers needing support.
"Early signs that inflation is moderating are encouraging and we remain optimistic about the outlook – our bank and most customers enter this period from a position of strength and we are well placed to continue managing our business for the long term.
"We remain focused on the disciplined execution of our strategy to drive sustainable growth in earnings and shareholder returns over time."
Full details can be viewed on NAB's Financial Results page.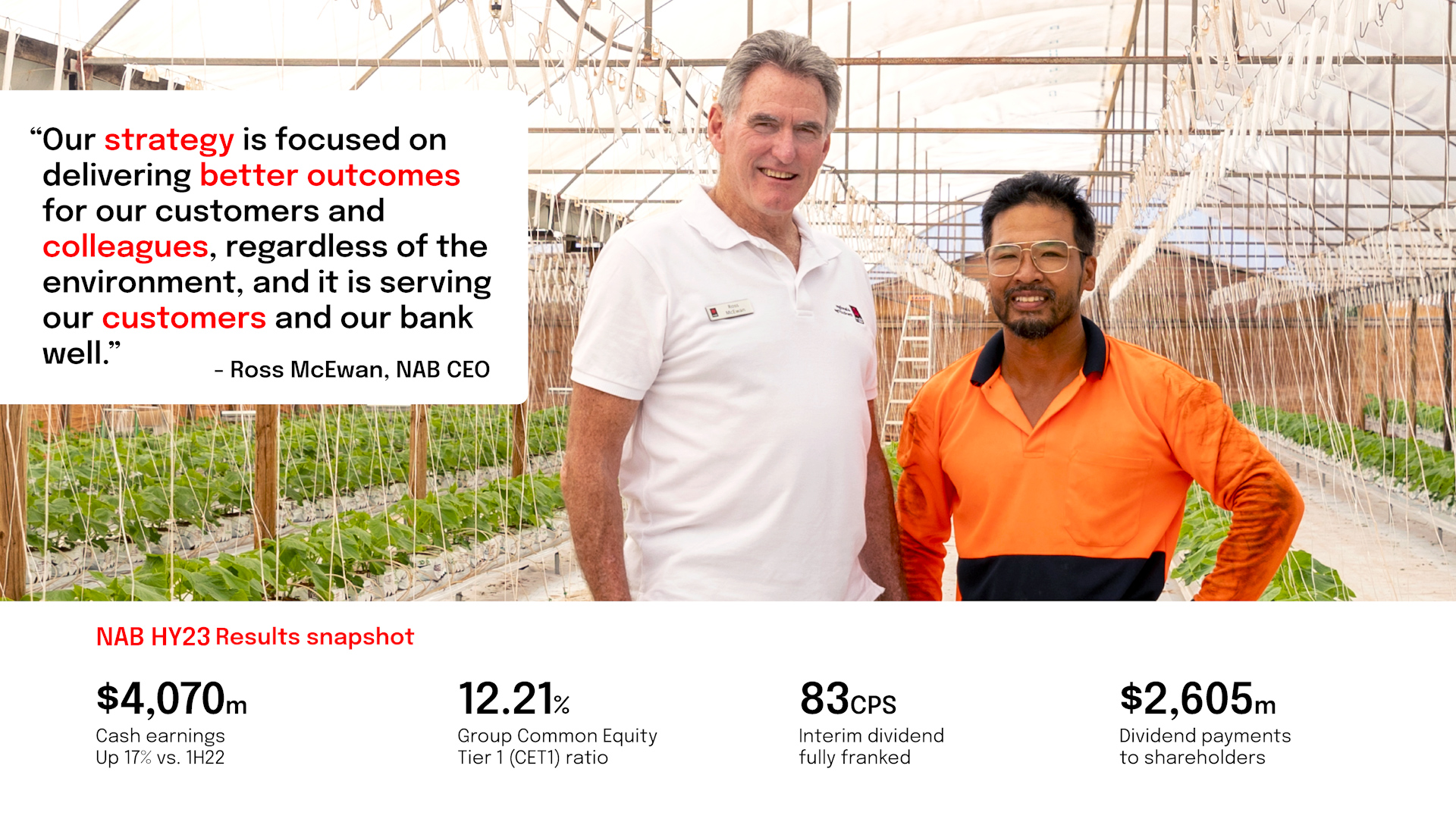 Read NAB's ASX announcement here.
Watch NAB CEO Ross McEwan discuss NAB's strong 2023 Half Year Results, economic conditions and growth opportunities for the bank in this video.
Read more about NAB customer Sun City Produce's success story here.

Read a transcript of a media call following the Result here.