Today is R U OK? Day, a perfect opportunity to turn to someone you know and ask R U OK?
I am an extrovert. I am a social butterfly. I love organising events. I am suffering from mental illness.
It started in Bali In June 2013. I wasn't feeling well and could not, as much as I tried, get into holiday mode. That feeling of being unwell turned into what I now know was my first massive panic attack. I spent three days in a Bali hospital having every test imaginable. Nothing was found, but my mind was broken.
I flew home and came good for a while, but come the end of September I started feeling unwell again; the stomach pain returned. I spent all of October in our local hospital, still not knowing what was wrong until they found out I had ulcerative colitis, which was treated and cleared. Unfortunately what no one picked up at the time was that I was having massive panic and anxiety attacks. It wasn't until I finally went back to work, when a nurse who looked after me in hospital came in to see me and said that I should see a doctor as she thought I had high anxiety.
I was in denial: "what?? No I don't". As you do these days, I immediately took to Google and was floored. I booked into a local GP and my life changed. I had lost 10 kilos and was a mess.
Medication, a great Psychologist, actively learning triggers, meditation, mindfulness, phone apps and being vocal about not being ashamed has helped me learn, treat and get back some kind of 'normal'.
My manager was an absolute legend in being cool about what I was going through as were are my work mates and my area manager. Everyone was so supportive and my work never suffered.
I have been very vocal in our town and surrounding rural towns about mental health and last October during Mental Health Week I organised our first mental health forum which was a huge success. I am in the process of organising the next one during this year's MHW in October.
The best thing I have learnt is Mental Health is nothing to be ashamed of. It's important we take time to have those conversations like the nurse did with me. It's as simple as asking R U OK?
+++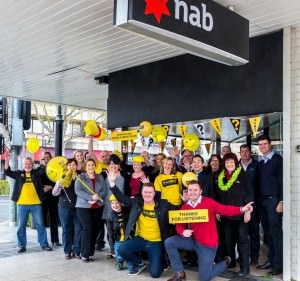 As part of our commitment to the wellbeing of our people, customers and the community, we are championing the national suicide prevention charity, R U OK?, who are a valued partner of NAB's MLC Community Foundation. This year, R U OK? is asking people to write a note of thanks to somebody who's helped them through a rough patch or a tough day.
Our NAB team at Wagga has really got behind the campaign by hosting a stop of their national bus-tour at the local branch this week. Employees from our Retail, Business and Agribusiness areas came together with customers and the community to help build awareness of the importance of having meaningful conversations.
Through the MLC Community Foundation, NAB has invested $7.8m into the community to support the mental health and wellbeing of Australians
There are four steps to use to help you to have an R U OK? conversation – Ask R U OK?, listen without judgement, encourage action and follow up.
Is there someone you want to thank for helping you through a tough patch or a rough day?