Bank halts millions in payments between March and July to help protect customers from scams
40% of Australians 'extremely willing' for payments to be slower if they were better protected from scammers
NAB introduces new blocks on some cryptocurrency platforms where scams are more prevalent
NAB has intervened in more than $270 million worth of customer payments which raised scam concerns in the four months between March and July, according to new insights.
Insights from the NAB app show when customers received a real-time payment prompt in app, 12% of payments were abandoned.
NAB Executive for Group Investigations and Fraud Chris Sheehan said several measures introduced in the last six months were having an impact to protect customers from scams.
"Introducing payment prompts, taking action on spoofing and stopping the use of links in unexpected text messages are among key measures we've introduced recently. We're now also taking action to block some payments to high-risk cryptocurrency exchanges in a further effort to stop scammers," Mr Sheehan said.
"The payment prompts feature a check list based on uncharacteristic activity designed to get the customer to pause and review the payment prior to hitting send.
"While many customers ultimately complete their payment after receiving a prompt, we're seeing around $290,000 worth of payments abandoned daily. This tells us that customers are taking the time to stop and think before they make a payment.
"While we're focused on making banking simple and digital, we've added this extra friction to help alert customers to warning signs. We need to everything we can to stop the crime before it happens."
Mr Sheehan, who is a former Australian Federal Police executive, said Australia needed to have a conversation about balancing speed and safety in a digital economy.
"Our research shows four in 10 Australians are 'extremely willing' for payments to be slower if they were better protected from scammers," he said.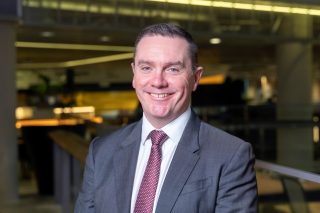 Implementing high-risk crypto protections
It comes as NAB today announced new customer protections by blocking some payments made to high-risk cryptocurrency exchanges.
Almost 50% of scam funds reported to the Australian Financial Crimes Exchange were linked to cryptocurrency in a recent 30-day period. NAB is a member of the independent initiative, which brings together business, government, law enforcement agencies and industry groups to fight financial and cyber crime.
More broadly, cryptocurrency scams are one of the fastest-growing security threats, with Australians losing more than $221 million to them last year.
"These scammers are part of organised, transnational crime groups. Increasingly, we're seeing them use cryptocurrency platforms to send stolen funds quickly and often overseas," Mr Sheehan said.
"We want to make it as hard as possible for these criminals and reduce the impact on our customers."
Action on spoofing working
Mr Sheehan said the bank's work with telecommunication providers to stop criminals infiltrating phone numbers and legitimate text message threads had led to a 29% reduction in reports of NAB-branded spoofing scams between January and May.
"We continue to target these scams and recently announced we're stopping the use of links in unexpected text messages as another way to try to stop the crime before it happens," he said.
"We continue to encourage all Australians to stay alert, curious and educated about the latest scams."
NAB is urging the public to contact their bank and Scamwatch immediately if they think they've been scammed.
Top tips for customers:
If you receive an unexpected request for payment, think before you click and pause before you pay.
NAB will never ask you to confirm, update or disclose personal or banking details via a link in a text message.
NAB will never ask you to click a link to log in to Internet Banking or NAB Connect.
NAB will never ask you to transfer money into another account to keep it safe.
NAB will never ask you for access to your computer or online bank accounts.
NAB operates 24/7 customer account monitoring for signs of suspicious activity and has added more than 50 dedicated scam and fraud team members since October 2022 so that customers can speak with someone faster. Free monthly webinars are available to all Australians, and the bank offers free and discounted anti-virus software offers from leading providers for customers.
Visit NAB's Security hub to learn more about what NAB is doing to keep the community safe.
The details:
For more information about the latest scams, advice and education visit NAB's security hub website at www.nab.com.au/security
Australians lost more than $1.5 billion to investment scams in 2022, according to the ACCC's Targeting Scams report. These scams made up more than 66% of financial losses reported to Scamwatch last year and increased by 112.9% compared to the previous year.
$270 million worth of transactions and daily average of 12% of payments in NAB app abandoned after a customer received payment prompt is based on a 15-week period between March 2023 and July 2023.
NAB Economics research conducted in May 2023 included a consumer panel of 2,000 adults weighted to the Australian population.
29% reduction in spoofing scam reports is based on period August 2022 – December 2022 compared to January 2023 – May 2023.