Despite everything the COVID-19 pandemic has thrown at the small business community – the spirit of entrepreneurship is alive and well in Australia.
Recent NAB Economics research shows that if Australians had a choice, over 4 in 10 people indicated they would love to own their own business (41%), while nearly 1 in 10 have already started their own business (9%).
The most entrepreneurial state
Aspirations to run a business vary across the country. By state, people in Tasmania are most aspirational with 46% indicating they would love to own a business, followed by NSW/ACT (44%). Aspirations were lowest in WA (35%), where uncertainty was also highest (14%), and in Queensland (38%). The preference for working for someone else was highest in Queensland (43%) and lowest in NSW and the ACT (36%).
Given small and medium businesses are responsible for 56 per cent of total production in the Australian economy, NAB Small Business Executive Ana Marinkovic was buoyed by the findings.
"It takes hard work and dedication to get a new business off the ground. With these businesses responsible for the employment of 2 out of every 3 Australians, it's vital we all get behind them and encourage the next generation of entrepreneurs," Ms Marinkovic said.
"Running your own business is one of the toughest things you can do – my hat goes off to them but equally I know from my customers that it is incredibly rewarding.
"Small business has clearly borne the brunt of this pandemic, but well before COVID-19, these companies were facing tough conditions. Our customers are looking for reform that enables them to be more agile, especially when it comes to hiring staff, adopting new technologies and doing business between states."
Having a go
Shane Wolki, Director of Pushys, a bicycle retailer based in Canberra; "Running your own business is a dream for so many people – I started out in retail in 1989 and have been running my own place ever since".
"When a business is your own it brings many challenges but is also extremely rewarding. There is something special about working with people who really care about your vision and want to share in that success.
"My advice to anyone thinking of starting out on their own is to have a crack and most importantly, be relentless in pursuing your vision".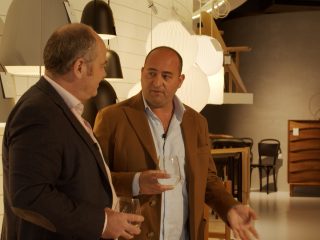 Anton Assad founded Scandinavian luxury store, Great Dane 20 years ago in Melbourne with a fax machine and modem.
"The idea of running my own business was something instilled in me from a young age and my father has really been the inspiration for my entrepreneurial journey," he said.
"He came out here with nothing, yet instilled in us the value of business and pushing boundaries. Sitting in a leaky warehouse when I first started out, I didn't necessarily have a clear path forward, but I was passionate and believed in the craft.
Relationships matter
"Along the way, we built many relationships, most of which remain strong today – something we are incredibly proud of.
"If you can surround yourself with the right people, you're well on your way to success.
"Getting a bank that backs your idea is critical, but even more important is believing in yourself.
"Whatever you do – try to be in the top 5% of what you want to do – be the best at that job – whatever it is. That's when success happens," Mr Assad said.