Just landed in London and not sure how much bang you'll get for your Aussie buck? Or perhaps you're mid transit in Singapore and doing a spot of shopping, but unsure whether to pay for your purchase in local or Australian currency?
These are just a couple of the common pain points faced by travellers that NAB's mobile banking app Travel Tools, developed in collaboration with Visa and Canadian Imperial Bank of Commerce (CIBC), will help customers address on their next trip.
Launched today, NAB customers now get a more personalised experience when they touch down overseas* on their next trip, with the NAB mobile banking app using the GPS location to provide customers a local greeting and automatically default to indicate local exchange rates when they are transacting on their personal banking Visa cards.
It also offers customers guidance on currency selection when they make a purchase and are provided with multiple currency options by merchants (ie, pay for the purchase in local or Australian dollars).
For more information and to watch a video on NAB's new travel tools click here.
The collaborative work stems from NAB's 10-year strategic alliance with Visa, alongside the innovation alliance with CIBC that was announced last year.
NAB's Executive General Manager Digital, NAB Labs & NAB Ventures, Jonathan Davey, said with more than 800,000 Australians' travelling abroad every month, it was important NAB was there to help customers manage their money abroad as well as at home.
"Almost six million Australians travel abroad each year and we know travelling can be daunting and stressful," Mr Davey said.
"Our customers have been asking us for assistance with things like foreign exchange rates so they have peace of mind on costs and can focus on enjoying their trip.
"Using the Visa Developer Platform and working with CIBC, who had identified similar customer travel pain points, we have collaboratively worked to provide our customers with simple travel information and advice to make their trip that little bit easier.
"Over the last few months we worked with Visa and CIBC to develop customer solutions that improve the travel experience and give customers more certainty and transparency when using their money abroad."
Rob Walls, Visa's Head of Product for Australia, New Zealand and South Pacific said: "In designing Travel Tools with NAB and CIBC, we started with the customer first, identifying some of the common questions people ponder when they're paying for items overseas, then developing a solution for them.
"We established our Visa Innovation Centres for exactly these types of collaboration and to accelerate the opening of our network via Visa Developer – the enabler of this solution. NAB Travel Tools demonstrates NAB's commitment to consistently enhanced customer experience and we're honoured to have played a part in bringing the service to Australian travelers."
The NAB Travel Tools provides:
Foreign exchange rates and information for 37 currencies*, covering around 90% of countries we know NAB customers travel to (based on customer notification of their travel arrangements to NAB).
A personalised welcome for customers upon logging in to NAB mobile banking.
Customers an indication of the local exchange rate likely to apply when transacting on their VISA card and provide a simple way to access guidance on applicable fees that may apply when transacting on a particular card.
Customers with advice when given multiple currency choice options by merchants when paying for a purchase (ie, option of paying in local or Australian dollars).
Help, guidance and advice information including, access to Smart Traveller, contact numbers for travel insurance claims, NAB contact details and other NAB travel related content in one easy place.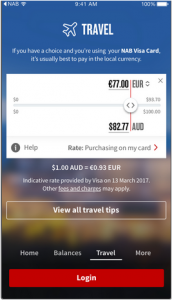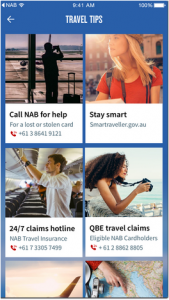 *The foreign exchange rates will be available in 37 currencies that can be used in 99 different countries and territories. Where a customer is outside those countries, the app will default to US Dollar conversion.