New NAB data details the factors currently most important to Australian homebuyers.
While the need for a work or study area was important in 2021, the amount homebuyers are prepared to borrow to buy a home is now the top factor.
Interest in apartments and the desire to move regionally has weakened, as buyers look to the suburbs following lockdowns.
NAB Executive, Home Ownership, Andy Kerr said affordability and increases in house prices have driven a change in what is most important when buying a home.
"The trade-off between affordability and lifestyle has changed markedly throughout the pandemic, with choices around CBD proximity, additional space and price fluctuating over the last two years," Mr Kerr said.
"It's really important to look to the future for your lifestyle preferences to ensure the short-term hunt for value is the right choice for you long-term.
"Through this competitive housing market, we've also seen the confidence provided by fast decisions is critical in reducing stress and supporting customers into their dream home. 80 per cent of our customers are now provided a decision within a day."
Mr Kerr added there were signs of price growth easing as supply levels improve.
"In December, we saw the first month-on-month fall in Melbourne housing values since October 2020 while price growth in Sydney and Perth continued to flatten," he said.
"New data this week showed us that house prices are starting to ease in 2022 and already we have seen more supply come on to the market."
The research, which surveyed 370 property professionals (including investors, real estate agents, & developers), reveals around three in four (74 per cent) consider the amount they're prepared to borrow as most important.
Other factors to hold greater value include good local shopping, restaurants and amenities (62 per cent), buying a house instead of an apartment (53 per cent) and the size of the land (52 per cent).
"We know that lockdowns have reshaped how we live with many at home for longer periods," Mr Kerr said.
"However, what we are now seeing is little green shoots of people returning to inner-city suburbs, looking for the balance of lifestyle and value as cities like Melbourne and Sydney have opened up. This has been aided by more subdued price growth in these areas."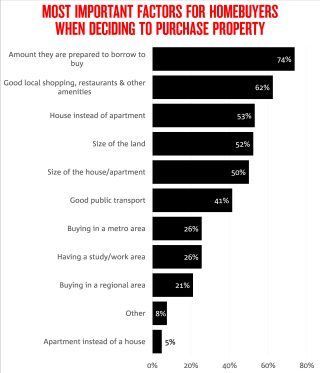 Regional vs metro
In 2021, COVID-related work flexibility initially led to a big change in perceptions around buying in regional areas.
Twelve months on, buying in a metropolitan area (26 per cent) is considered somewhat more important than buying in a regional area (21 per cent).
State by State
Though the amount homebuyers are prepared to borrow was the key consideration in all states, it was much more important in SA. Good local shopping also rated highly in all states, again led by SA.
Among some other key differences were the relative importance of a house, instead of an apartment, and size of the land in WA.
Having endured the longest periods of lockdown, having a study or work area was also most important in Victoria and NSW.
"In each state there are different factors that impact what is most important when buying a home," Mr Kerr said.
"Victorians still clearly value good public transport more than other states, a result of the move to the outer suburbs or regions during the past 18 months.
"The size of the property was a much more important factor for Queenslanders, while South Australians were influenced by the amount they are prepared to borrow."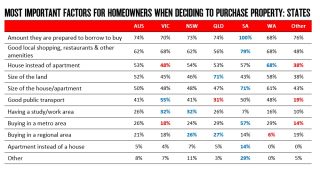 Background information
NAB is committed to providing a simple home loan experience for our customers. Enabled by our new application service, proprietary loans are already being approved conditionally within 60 minutes.
Home loan appointments can be booked at: https://www.nab.com.au/personal/home-loans
For further information:
Media
Calum Young                                                           NAB Media Line
M: +61 (0) 472 863 630                                        P: (03) 7035 5015