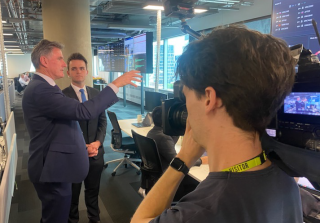 In a recent special report on Nine News, NAB CEO Ross McEwan and Chief Security Officer Sandro Bucchianeri talked about the threat cyber criminals pose to Australians.
"A bank like ourselves is blocking and tackling well over 50 million cyber attacks on a monthly basis," said Ross. "It is the thing that keeps you awake at night."
Sandro reiterated this and said that often "the bad guys can move much, much faster than big organisations can".
Protecting people
But wherever there are bad guys there are also superheroes. Like Jorell Magtibay, who manages the Threat & Vulnerability Intelligence team at NAB.
"Protecting people is really close to my heart because people dear to me have been scammed or impacted by this stuff," said Jorell. "I hate it and that drives me."
As a kid, Jorell loved Marvel, DC and Anime. He always dreamed of being a superhero, but the fact that he shares a name with Superman's dad (Jor-El) is just a coincidence!
With a background in Engineering and Arts, he also loves the unique challenges of fighting cyber criminals.
"My job is the perfect mix between engineering, art and science because there's a whole technical element about it, a psychological element about it and an artistic element because you're solving problems," he said.
Team Australia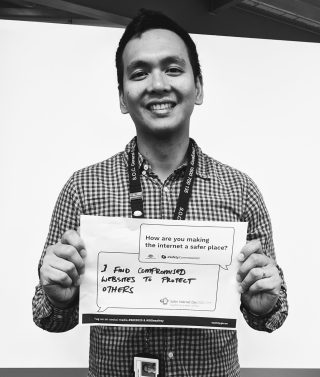 The mission of Jorell's team is to understand and research threats targeting NAB and our customers, and produce actionable threat intelligence that is timely, relevant, accurate and trustworthy.
But Jorell also looks beyond NAB to 'Team Australia' and the world!
"We want to produce world-class threat intelligence and collaborate with law enforcement, industry and government to reduce the impact of cyber threats targeting NAB, Australia and the Global Financial Industry," he said.
To this end, Jorell has represented NAB as Chair of the Financial Services Information Sharing and Analysis Center (FS-ISAC). The FS-ISAC has thousands of members and is the only global cyber intelligence sharing community solely focused on financial services.
Last year he also participated in government workshops with the Australian Cyber Security Centre (ACSC) to help pioneer an ecosystem that enables industry and government to share cyber threat intelligence through a common language.
"They took on a lot of our feedback about what we're doing and how the industry would like to engage," he said. "Ultimately, the goal is to protect Australia, the Australian economy, Australian businesses and everyday Australian mums, dads, grandparents and individuals."
Honours for Jorell
On 19 November 2021, the ACSC facilitated the first successful bi-directional share between a commercial entity and a government department. That commercial entity was NAB!
"We're pretty mature in terms of our technology and our process, so we're kind of like a pioneer in this space," he said.
"Given that we've helped build and establish this capability for the country, there's now a central place where all this intelligence can be kept and stored over time and be used by other people in that partnership with the government."
Jorell was recently recognised by the FS-ISAC for his "commitment to advancing cybersecurity and resilience in the global financial system through cross-border collaboration, cyber intelligence sharing, and defence against emerging cyber threats".
In a recent interview after his win, Jorell praised NAB's significant investment "not only in the readiness and resilience of not just our organisation, but the financial sector as a whole".
"Cyber threats and malicious actors are constantly evolving, and sharing intelligence and best practices across the industry is crucial to developing solutions to keep our organisation and customers safe," he said.
"I am delighted to receive this recognition, as it is the perfect indicator of the value of that collaboration."
NAB Fusion Centre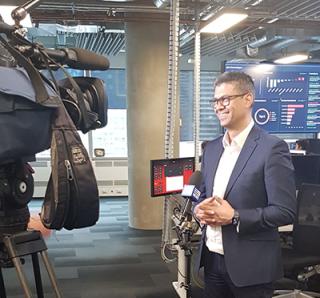 NAB's collaborative spirit is nowhere more apparent than in our new 'Fusion Centre', which brings together our Physical Security, Cyber Security and Global Operations teams to swiftly respond to and proactively manage threats.
"It's definitely helpful to have everyone in the one spot," said Jorell. "We share resources, but also information and intelligence.
"If there are incidents that we need to respond to quickly, we've got everyone in the room that needs to be there."
See more of NAB's Fusion Centre in the special Nine News report.