Green Heroes founder Sarah Jantos knows that Jungarra Ngarrian (Cook Island) near her home in Fingal Head is a special place.
"We live beside the scenic rim and World Heritage Listed Wollumbin, one of the most biodiverse areas in Australia. Some scientists have described the region as having more plant and animal species than the Amazon rainforest!" she said.
But due to development, population pressures and the 2022 floods, habitat and species in the region are declining.
"The vision of Green Heroes is not just to protect this habitat, but to empower the Indigenous community in becoming environmental visionaries, innovators, leaders and confident contributors to society," Sarah said.
"Some Elders identify that culture and Connection to Country has been lost over time. Caring for Country within a cultural context, is something that many community members want to immerse themselves in."
Caring for Country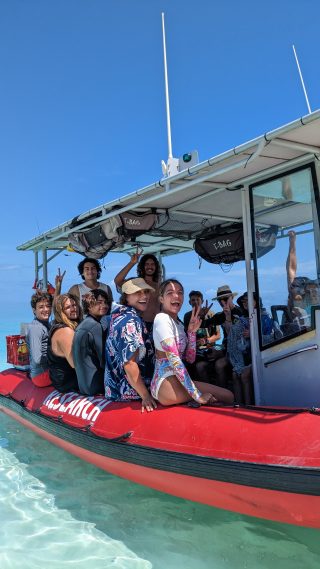 In 2021, Sarah's team was alerted to a clutch of endangered Loggerhead sea turtle eggs that were laid on a beach track behind their homes. If left in the sand this late in the season, the eggs would be too cold to hatch.
"Our volunteer team was not willing to let that clutch of eggs die," Sarah said, "so they pulled together a project that successfully incubated, hatched and released almost 300 Loggerhead hatchlings from three separate nests.
This success led into the Jungarra Ngarrian Conservation Project and sparked a deeper collaboration with the local Indigenous community, with a clear focus on Sea Country conservation.
Today, two of the three Directors of Green Heroes are Aboriginal, along with the majority of active volunteers.
Volunteers participate in training and education that includes PADI dive certification, Coxwains training, underwater research and threatened species monitoring in collaboration with NSW government marine estate management staff and team members.
"Our older volunteers and youth also mentor the younger kids," Sarah said. "They accompany younger ones for snorkel trips and share stories about the significance and history of the island."
More than money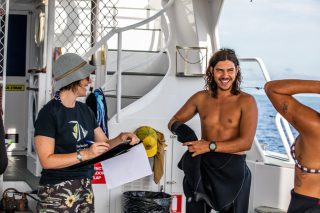 In 2022, Green Heroes received a $10,000 grant from the NAB Foundation to fund workshops and diver certifications for Aboriginal youth wishing to join the program.
"The grant set us on an amazing journey," she said. "As a small organisation, we have dreams and visions, but until someone puts some money in and pays for boat charters and vital training, the project cannot get off the ground.
"I am so pleased to report that we have many volunteers advancing to higher qualifications such as 'scientific diver' to enable paid research work.
"Our team are also offering paid cultural tours to groups wishing to combine snorkel with the turtles tours with education on local Aboriginal history and culture.
"It is so exciting to watch community-led momentum and excitement build organically. I find much satisfaction in working with the community for people and planet. I would be perfectly happy to do this for the rest of my life."
NAB Foundation Community Grants
NAB Foundation Community Grants of up to $10,000 are available for community-led projects that fall under one or more of the following categories: readiness, recovery and future-proofing.
Applications for the current round close on 31 August 2023.
Visit NAB Foundation Community Grants full details.