Jedd Busslinger was always destined for the big time after being named the NAB AFL Auskicker of the Year in 2012 which came with a once in a lifetime opportunity.
"Marching in the AFL Grand Final parade the day before the game, in front of lots of mad footy supporters all cheering everyone on, was really cool."
"We also got to play at halftime on the MCG on Grand Final day in front of 100,000 screaming Sydney Swans and Hawthorn supporters"
"The experience was something that I'll never forget."
But nothing will top a tradition that's been delighting kids and audiences for years: the medal presentation.
For 16 years, NAB AFL Auskickers have presented the premiership players with their Grand Final medals. It's a special moment for the players and the kids.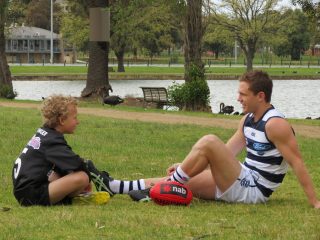 "After the game we were fortunate enough to present the medal to the winning players."
"Sydney had just won by a couple of points, and I was fortunate to present my medal to Adam Goodes, who's obviously a champion of the game."
"He said thank you and gave me a pat on the back and a hat, I was very lucky to be able to present my medal to a person like him!"
"It was something that not many people get to do, and something that I'll treasure forever."
Offering an inclusive environment for everyone aged 5 – 12 at any skill level to learn the game, NAB AFL Auskick is all about fun, getting hands on the ball, promoting healthy lifestyles and most importantly making new friends.
"Growing up as a kid, Auskick was a place where I could meet lots of new people. Some of my close mates all played footy, and that's how I got to know them."
"I think it's a game for all. Anyone can play and it's such an inclusive environment."
"Footy was something that I always wanted to be part of growing up, and then to win the NAB AFL Auskicker of the Year competition drove that motivation for me to realise what it was like to be an AFL player."
Part of Jedd's Auskicker of the Year prize was to get mentoring from Geelong's captain and NAB Ambassador, Joel Selwood.
Since then, he's had a decade-long friendship with the recently retired premiership captain, who's had a significant influence on Jedd's footy journey.
"Joel's been really good for me, I can message him whenever I want, and he'll flick me a message when he knows I'm playing in a big game."
"It's been really cool to have an AFL player next to me along the way to drive my motivation."
Jedd is currently living out his footy dreams after being selected by the Western Bulldogs in the 2022 NAB AFL Draft. For him, the pathways NAB and the AFL provided were essential to his footy career, and it all started with Auskick.
"I'm extremely grateful that my parents signed me up when I was four years old."
"For anyone thinking about starting Auskick or applying for the competition, it's a must do."
"Just give it a go. You could be like me and not think that you're going to get it and then end up with a pretty good story."
"And if you're lucky enough to be a part of it, then it's such a cool experience"
And now that Jedd is an AFL player, maybe one day it will come full circle and he will be presented a premiership medal on Grand Final day by a NAB AFL Auskicker?
"That'll be an extremely special moment if it ever happens. And one that I can't wait for."
We're on the search for NAB AFL Auskickers who best demonstrate the spirit of the game – dedication, enthusiasm, teamwork and passion to join Team NAB AFL Auskick and win the ultimate experience for them and a teammate to both attend the 2023 Toyota AFL Grand Final and present a medal to a premiership player!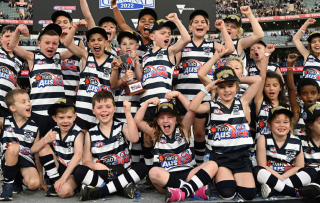 The overall winner will also receive $5,000 from NAB, and have Team NAB AFL Auskick coaches as their personal footy mentors in 2024. 
Do you know a NAB AFL Auskicker who would love to join Team NAB AFL Auskick and present a premiership medal at the 2023 Toyota Grand Final? Enter here.