The Great Barrier Reef is home to six of the world's seven species of marine turtles. These species are all threatened by a range of environmental and, more significantly, human induced factors.
"Unforeseen environmental conditions such as cyclones and flooding have significantly eroded nesting habitats, resulting in increasing numbers of nesting turtles incurring injuries when seeking safe spaces to lay eggs," says Cairns Turtle Rehabilitation Centre (CTRC) co-founder Jennie Gilbert.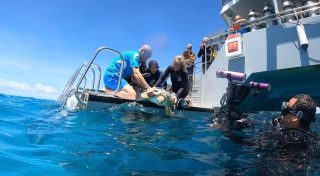 "Turtles that are brought into CTRC are suffering from disease or injuries caused by boats, discarded fishing gear and marine debris ingestion that is mistaken for food."
"If left unaided, they will eventually starve to death, be hit by a boat or become easy prey for larger predators such as sharks or crocodiles."
The Cairns Turtle Rehabilitation Centre is a voluntary non-profit organisation dedicated to the rescue, rehabilitation and release of sick and injured turtles found in the waters off the QLD coast.
Founded in 2000 by Jennie Gilbert and Paul Barnes, the centre rescues, researches and rehabilitates sick and injured turtles, and ultimately after sometimes extended periods releases these animals back into the wild where they belong.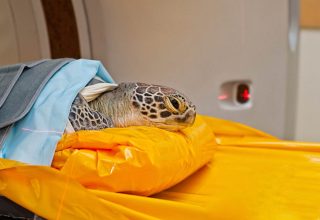 As our climate changes, natural disasters are impacting Australian communities more frequently and severely. The NAB Foundation Community Grants fund local projects that help communities prepare for natural disasters, support long-term recovery and build resilience.
Since the program started in 2021, NAB Foundation Community Grants has given $3 million to 262 community organisations across Australia.
Each round of funds also has an additional $100,000 available for impact grants, which are awarded to projects that can be scaled or replicated in other communities and locations to help people, wildlife or the environment.
NAB Colleagues collectively voted to award the CTRC one of these grants, with a combined total of $35,000.
"The grant we've received from the NAB Foundation is game changing. It will give us a whole new way to respond to rescues."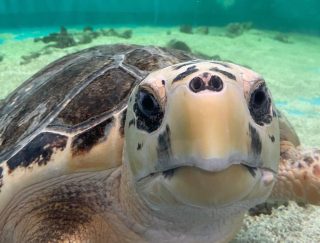 "We will use it to build a 'turtle ambulance', allowing rescued animals to be safely transported to the rehabilitation centre with custom made transport boxes, and to get them X-Rays, CT scans or lifesaving treatment from vets."
"The Cairns Turtle Rehabilitation Centre will also replicate its rescue and rehabilitation activities on Green Island with an education centre. The centre will not only educate it will provide students with 'hands on' learning, which is invaluable."
"Responding, rescuing, rehabilitating and releasing these turtles will boost resilience in the population across Queensland."
Since 2008, the NAB Foundation has supported programs that help address issues important to our customers and communities. 
You can find more information on the NAB Foundation website, or apply for a community grant here.