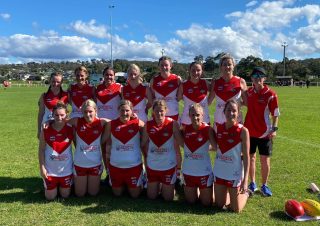 Working in the NAB Sponsorship team, Sophie Knowles often talked about AFL, but it wasn't until moving to a regional town that she decided to pull on some boots and get onto the field.
"When we were first sent to work from home back in March 2020, I called my mum (in Eden, NSW) and asked if she'd be happy to look after my daughter Lola for two weeks."
"Fast forward to April 2021 and we were still living there, I'd had a second child and I was looking to meet people in the community."
And what do you do when you live in a small country town and want to make friends? You play sport!
"I signed up to play AFL with the local team, the Eden Whalers, after having my second child Rory. He was five months old when I played my first game."
"I was nervous having never played before, this was a contact sport and I'd just given birth."
Taking a blow to the chest during a training session or game is something most female athletes have experienced at some point. While light injuries can cause bruising and discomfort, harder hits can result in hematomas and difficulty breastfeeding.
"As I was still breastfeeding Rory, protecting my chest was a real priority for me."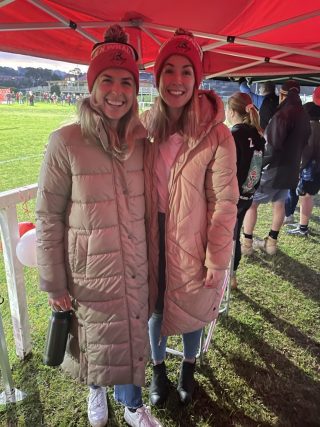 Sophie had heard of Zena Sport, a NAB customer who produces protection vests designed for females to wear while playing contact spot, via NAB AFLW ambassador Daisy Pearce.
Zena Sport was founded by husband-and-wife duo, Donna and Brad Johnson. Brad (the former Western Bulldogs captain) had been involved in footy for decades both on and off the field, but the spark of a business idea came up after a fateful chat between Donna and her friend.
"My wife Donna was having coffee with a friend who had three girls who played footy" says Brad.
"They were talking about what injuries were involved with football and all sports."
"Off the back of those conversations we went to work on what opportunities there were to support their journeys."
"We had no business background, but we did a lot of research and spent a lot of time uncovering how we wanted to bring this vest to life."
After years of research and testing, Brad and Donna launched their lightweight protective vest a week before COVID hit.
"Our bankers have been able to keep us on the right path to get us through COVID. It's all about relationships and that's what we've been able to create though NAB. There was an understanding of what we can do with the business."
"The bankers we spoke to were so positive about getting us though that time, and now it's full steam ahead."
"Our biggest achievement was the day our first vest arrived at the doorstep."
So what's next for Zena?
"The last two years have been great for getting feedback. We started out in footy and now Zena is worn in well over 25 sports."
"We want to get the vests on as many athletes as we can, in as many sports as we can."
For Sophie, Zena gives her confidence to get out there and give it a go on the field.
"It's a safety blanket because you know that if you get tackled, you're protected."
"It's becoming more of a conversation piece now, and certainly a case in our club. I introduced Zena to my teammates, and they all thought it was fantastic. Now we don't go to a training session or a game without it."