NAB CEO Ross McEwan
Thank you Chair. Good morning everyone.
Since we met in September last year, we have seen Australia make a far stronger recovery from the economic and health impacts of COVID-19 than any of us would have expected.
The recovery is thanks to the decisive actions by Government, supported by regulators and businesses.
It is also thanks to the resilience of all Australians, who have worked together to create one of the most cohesive COVID responses globally.
The task ahead is to capitalise on our strong management of outbreaks, lock in the stability that has been delivered and focus on the next phase.
Businesses across Australia can and should lead the shift from recovery to growth. While there is a lot of attention on the resurgent housing market, as Australia's biggest business bank we are seeing clear and widespread signs of businesses getting going again.
Our bankers are approving more loans to businesses than before the pandemic. New and increased lending to small and medium sized businesses is up. NAB's agricultural equipment finance sales for example have grown 130 per cent in the last 12 months.
Our recent monthly business survey shows business conditions are at a record high. The strength in conditions is evident across all states and industries and business confidence remains well above the average.
I see this when I visit customers around the country. They are more confident, and they are looking to expand. Others, particularly farmers, are choosing to pay off their loans faster – a trend we have seen previously in good times.
Many households are also choosing to pay down their loans faster.
And that's a good thing.  We want people to pay down debt when interest rates are at historic lows, because we know at some stage, they will increase.
Last September, I advised the Committee that we had paused 130,000 loans for business and mortgage customers.
Today I can report that over 98 per cent of the loans that NAB deferred are no longer on deferral. This is an extraordinary effort by our customers, and I commend them.
However, a word of caution. The data we have is short term. We are only months into the recovery. Challenges and uncertainty do remain. While most of our customers are back on track, some sectors such as hospitality, transport, professional services and tourism continue to hurt because of COVID and more recently the floods and the cyclone in WA.
Government support measures such as the SME Recovery Loan Scheme are vital to give these customers more time. But unfortunately, some of them won't make it. Our specialist teams are and will work with these customers to put them in the best possible position.
Last time, when I was before the Committee, I laid out five key actions and reforms we could take to boost business investment, consumer spending and job creation.
The Government has already progressed on many of these, including bringing forward tax cuts, enhanced investment incentives and accelerating infrastructure spend.
There are other areas we continue to advocate for.
For small businesses, which will drive our economy, we must make it easier for them to innovate, digitise and run their businesses, including how they hire and pay workers.
I strongly support first home buyer incentives, but we know supply is restricted and the states need to streamline approval processes for land development and residential construction.
Without decisive moves to increase housing supply, demand side incentives will inevitably act to push up house prices further and faster.
The return of international students is also critical for growth and bringing life back to our CBDs.
The biggest challenge our customers tell me they are facing is finding people to work. Businesses need labour for seasonal jobs and to meet surging demand in areas such as construction, parts of tourism and hospitality, and aged care.
To enable these, there are three actions we can take:
First of these priorities is for all of us to get behind the rollout of the COVID vaccine. I will be encouraging all my colleagues at NAB to be vaccinated and will support them to do so. Last week as I had my flu shot at work, I was considering how large employers like NAB could assist with the rollout of the vaccine. We would be happy to do so at the right time.
Secondly, as I've said before, we need to have a national plan for living with the virus. Short term lockdowns in capital cities disrupt travel plans, they undermine confidence and deter activity.
And the third is reopening our international borders. The travel bubble with New Zealand is very welcome and more of these arrangements are needed. This will show that Australia can manage international arrivals which is critical for confidence.
I am acutely aware of the role NAB plays in the stimulation of our economy. It's our job to fund good business investment that will underpin Australia's economy and job creation.
To do that we are hiring more bankers in more places, in particular to support small businesses, and making sure Australians know we are open for business.
There are a number of other important matters we are focussed on.
I've made it clear to everyone at NAB that we want them back in the office two to three days a week as we adopt a more hybrid way of working. Local businesses and our customers rely on us to collaborate closely.
Last time I was before the Committee we spoke about sexual harassment in the workplace. There is now a national conversation about this and I welcome it. It is a very important issue we need to address as a community. I wrote recently to all NAB colleagues to reinforce the zero tolerance approach we have to sexual harassment.
Where misconduct occurs, we will investigate and take appropriate action quickly.
In closing, I am very conscious that we need to be the best bank we can. The lessons from the Royal Commission will not be forgotten. We are building a culture that is focussed on getting the basics right and lifting the bar on professionalism in banking.
I am optimistic for the future of Australia and determined to work together with you to achieve a clear path that delivers the best outcomes.
Shaun and I look forward to the conversation.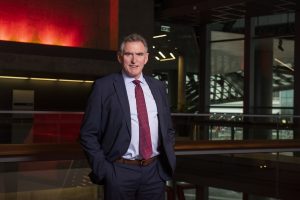 A recording of NAB's appearance at the House of Representatives Standing Committee on Economics can be found here: https://www.aph.gov.au/news_and_events/watch_parliament