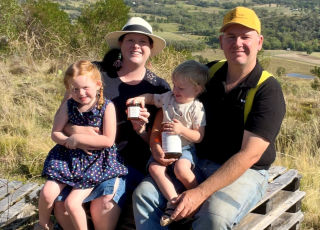 Wall's Honey started out as a hobby when Justin Wall was gifted three beehives in 2014.
On his first date with future wife Katelyn in 2015, he confessed that "he really likes bees". Thankfully, Katelyn was undeterred and married him anyway!
"I'm now his sidekick who manages the books, liaises with wholesale clients, and handmakes our range of natural lip balms and beeswax wraps," said Katelyn.
"Justin is the head beekeeper and is responsible for the health and happiness of our bees."
Wall's Honey is now a thriving family business, including two apprentice beekeepers Lucinda (4) and Lachlan (2).
"In hindsight, leaving full-time permanent employment, obtaining a business loan and enjoying a toddler and newborn baby was both exciting and exhausting," said Katelyn, "but it certainly paid off in the end".