Six months since jointly establishing the NAB Women in Technology program, Dayle Stevens spoke to ABC Melbourne's Rafael Epstein this week about her career in technology, and how the program is making a difference for women at NAB.
A career in technology was not her original life plan, but Dayle soon caught the 'technology bug' shortly after leaving university.
"Technology makes the world go round these days. Being involved in the core part of an organisation – the core part of the economy – is really interesting," Dayle told Rafael on ABC radio.
Ten years into her career at NAB and now General Manager for Support Services Technology, Dayle said it was during a conversation with her boss a few years ago that she realised she could be a potential role model for other women in technology.
"[My boss] was asking me why I was comfortable being the only woman in the room in a lot of the leadership team meetings we were in. I said at the time it was because, throughout my career, I had lots of strong female role models," she said.
"It just got me thinking about the shadow that you cast, that maybe I'm a role model for other people and over the last two years I have stopped to reflect on that – and there is a problem with gender diversity in technology and maybe I was someone who could do something about it."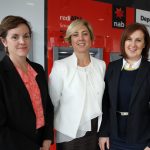 Together with Nicole Devine, General Manager for Program Office and Commercial Management in NAB's NextGen project, Dayle launched the NAB Women in Technology program in March this year.
Dayle told ABC Radio that addressing gender diversity issues in the technology industry was a complex problem to solve.
"The program we've been working on this year has been really focussed on [our] women and building confidence and getting women in technology thinking about what they want, what their visions are and what they want to achieve – and then having the confidence to step into those opportunities when they arise," she said.
In the interview, Dayle sighted her own lack of confidence as a reason why she didn't initially apply for a promotion, and, when she was asked to apply she did so reluctantly.
"I submitted the worst ever job application in history, which was essentially just my CV and here's a list of all the reasons why I don't think I'm the right person for the job," she said.
"I saw those senior roles being the ones you needed to be available at any time of day, you needed to be willing to put the job first and your family second, and I wasn't prepared to do that.
"But the conversation I then had [with my boss] was, 'You tell us what works for you and we'll make that happen.' And, it was at that point in time that I realised what kind of flexible options there were at the organisation."
As one of the largest technology employers in Melbourne, NAB is playing a leadership role in demystifying what it means to work in technology for women.
NAB's message to everyone is that technology offers great flexibility in challenging jobs that are highly rewarding. With increasing digitisation of the economy, the career options are growing by the day.
The NAB Women in Technology program aims to develop women in technology roles in NAB both personally and professionally, while also taking an active role in the community to address the systemic diversity challenges in technology.
It is further demonstration of NAB's leadership in the corporate sector for gender diversity.
NAB is the only major bank to have conducted a gender pay equity audit to investigate possible causes or barriers to equal pay, and was the first major bank to introduce a domestic violence support policy – an issue which affects one in three women at some point in their lives, and two thirds of these women are in paid work.