Footy had always been a sidebar of Emma Moore's life.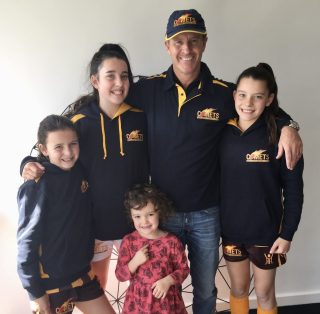 "My dad was a Melbourne supporter and played in the reserves, I just recently found out that my grandfather played for Collingwood before WW1, and my husband was a footy player all his life"
And though Emma loved kicking a footy around, there were next to zero opportunities to participate.
"In Year 12 our school refused to let us play footy because it was regarded as unladylike. Some friends snuck in a footy and kicked it around the oval, we were all quickly given detention, ball confiscated and petition to play rejected!"
Over the years, things have changed.
"NAB has been fundamental in making women in AFL mainstream. If you can't see it, you can't be it."
"All our four daughters have had a very different journey from mine. Playing Auskick and then benefitting from their dad and his mate coaching and being part of the inaugural girls' movement to play multiple girls' teams for Kew Comets."
"From the original Kew Comets girls Alice O'Loughlin, Stella Reid and several others have all been drafted to the AFLW, plus stacks of others playing in the NAB League, VFL and in AFLW training."
One of the daughter's, Zoe, now lives at Bond University and plays in the QLD equivalent of the VFL, using her love of the sport to connect, make friends and find a place to belong in a new town. Even better, her team made the Grand Final, going down by a point!
"NAB supported her all the way through from Auskick to local club footy, then to the NAB League playing for Oakleigh Chargers premiership team, and now a footy club in a new state."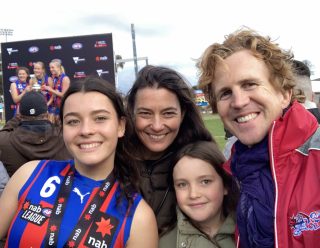 "Our four girls still play footy and benefit from NAB's support – they love it and have a ball.  They're just really, really bad at cleaning their muddy boots."
NAB is the inaugural naming rights partner for AFLW, and for the first time ever, the NAB AFLW 2022 season that kicks off later this year will feature all 18 clubs from across Australia and offer a professional career path in the sport from NAB AFL Auskick to the big time.
"As a Mother and a feminist I couldn't be more stoked to see all the girls out there in the mud, having fun, playing strong and fair and loving the game."
NAB is celebrating 20 years of supporting the AFL with our epic new Mini Legends showing that from Auskick to the legends of the game – we're all big time.