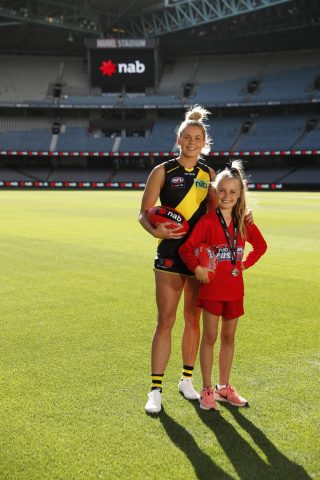 For Katie Brennan, NAB Ambassador and captain of the Richmond AFLW team, supporting an environment for people to be themselves is one of the best parts of her job.
"It's really important to let others feel comfortable to be who they are and who they want to be."
This Friday Katie's Richmond Tigers will battle it out against Carlton in the first game of the NAB AFLW Pride Round. Both clubs will don commemorative guernseys in all colours of the rainbow to celebrate and show their support for the LGBTQ+ community. As Katie explains, Pride Round is more than a footy game.
"If you can see someone who is playing elite sport—or even working in a corporate leadership position— be themselves, you know that it's possible for yourself. I think that's super important."
"Pride Round is a brilliant opportunity to celebrate diversity and bring everyone together to be a part of something bigger, create some really important conversations and feel comfortable in our space and community."
From the very beginning, the AFLW has punched above its weight in flying the flag for diversity, equality and inclusion, particularly in the LGBTI+ space.
"Even before AFLW, this was a place you could go and be yourself. There were many people before us that paved the way and led to the league developing into what the AFL Women's is today."
"I think we do it particularly well in the AFL Women's community. Regardless of Pride Round, we're still super inclusive of everyone."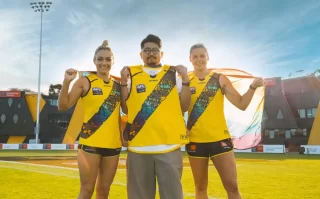 When asked about the differences in atmosphere between attending an AFL or ALFW game, Katie has a laugh.
"We get asked this a lot. I think women's [footy] is a very different environment to what you experience in men's. It's super inclusive, there's a real community feel, the crowds are smaller but there's a great atmosphere and excitement about the game."
"The men's league and the other codes could learn something from it. There are corporates that can learn from it. Feeling comfortable to be yourself benefits all of us as a society and a community."
And for anyone who might have been turned off attending a live footy game after a bad experience, or perhaps haven't even been to a match before?
"I'd say to come down and experience AFL Women's, and in particular Pride Round."
"Come along to enjoy the style and way we play, but most of all just enjoy the atmosphere and the community and hopefully you feel accepted to be who you are and what you want to be."
Carlton v Richmond at Ikon Park on Friday 14 October is the opening game of the NAB AFLW Pride Round. NAB is offering customers an exclusive 50% off AFLW Pride Round tickets, view the details on how to redeem this offer here.