In grade three, Aaron Cameron coloured in a picture of the Australian Flag, but used a purple pencil instead of blue. That's when he discovered he was partially colourblind. As an adult, he struggles to see red text and he's going deaf in one ear.
"I don't identify as a person with disability. My experiences can't compare to people with other types of disability, but that peek through the window helps me to understand. I know if I'm affected this much, imagine somebody who experiences daily barriers and impediments," Mr Cameron said.
"After a career teaching English as a second language I went into technology and web design and right from the start I asked people to stop using colour to convey information. I found a path into quality assurance in web development where I enforced the view that quality is accessible, usable, and inclusive for everyone."
Mr Cameron joined NAB in 2019 and now leads a team of 11 analysts as our Digital Accessibility Manager, working to ensure that NAB's digital products and services and other digital assets are accessible – this includes everything from emails to our websites and the NAB mobile banking app.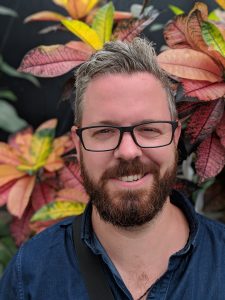 Jenny Watts-Sampson, NAB Associate Director Accessibility, Social Impact, works closely with Aaron and his team and is a fan.
"The work Aaron does is essential to ensuring our customers and colleagues can engage in our products and services and work," she said.
Ms Watts-Sampson, who has a degenerative disability that means she uses a wheelchair and is hard of hearing, has spent her professional life improving accessibility and inclusion. And she has some hard-won advice.
"Don't just say 'we'll help you'. What people with a disability want is independence," Ms Watts-Sampson said.
"People with disability are well known to be amazing problem-solvers. Not wanting to make a fuss or risk being misunderstood, there is often hesitance to speak up," said Mr Cameron.
He and Jenny want that to change. "People shouldn't have to just find workarounds or put up with frustrations," Mr Cameron said.
"Disability isn't a problem, but the inaccessibility of the world is!"
For more information about accessibility at NAB, please visit our Accessibility and Inclusion page.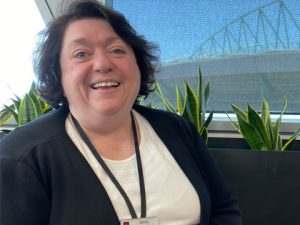 This is a big week for accessibility. Coinciding with Global Accessibility Awareness Day, NAB has this week signed up to the global Valuable 500 Initiative focused on improving accessibility. The Valuable 500 this week announced it has reached its goal of 500 international organisations committing to put disability inclusion on their senior leadership agenda.
In addition, NAB has launched its latest Accessibility Action Plan 2021-2022.