Who better to tackle the challenges that millennials face than millennials themselves? The recent NAB Telstra Millennial Challenge aimed to generate new solutions and genuine collaboration amongst NAB and Telstra's future leaders. The aim was to develop new ideas so that a generation of customers is well-equipped for success.
Before we got started, we got some inspiration from leading Australian Millennial experts Holly Ransom (CEO Emergent) and Rocky Scopelliti (Telstra's Global Industry Executive – Banking, Finance), who set the strategic foundations of why our graduate communities should be empowered to develop new concepts to address the social and political shifts that this demographic will face in the short future.
The teams were made up of a mix of the graduates (or grads) from NAB and Telstra, so there was a diverse range of skills and experience in all of the teams. In fact, the innovators were not from just a few pockets of NAB or Telstra. The NAB and Telstra came together from across various business units of each organisation, really fostering diverse thinking to challenge concepts and perhaps what might be a traditional way of thinking. This was also reflected in a diverse and interesting range of team names which included Melbourne Valley Startup (who ended up winning), Young Money and the Millennial Muppets. Lol, Millennials.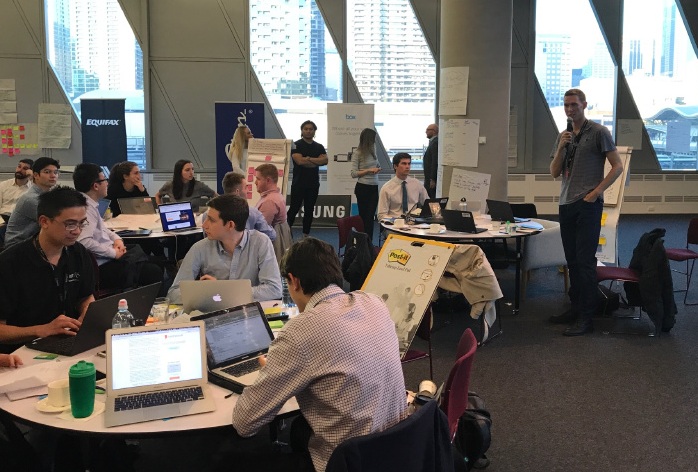 David Cate (NAB Manager Technology Innovation) and Simon Spencer (from Edgelabs) encouraged us to step out of our comfort zone so that we could solve challenges faced by millennials during an action packed two days. Sasha Courville (NAB Head of Social Innovation) also explained the power of shared value – where companies find business opportunities in social and environmental problems. After hearing from the inspiring speakers, the grads from NAB and Telstra were eager to have a crack at finding digital solutions to millennial type-problems. This included housing affordability, values based investment and saving for the future. There was no time for the young innovators to get a smashed avocado brunch, because there was heaps of work to do in order to bring our ideas to life in the next 24 hours.
This began with many intense hours of problem framing and solution brainstorming. Along the way the event partners including Tech Mahindra, Kony, Equifax, Core Logic, Samsung and Edgelabs were on call to give the grads a leg-up whenever we needed it, as well as experts from the NAB Labs and Telstra Ventures teams. By day two we had shaped our customer problem and proposed solution into a compelling pitch to present to the judges. This was done in an informal area for the 'fireside pitches'. I know what you are thinking and the answer is yes – there was a fake fireplace in the room. Nice touch!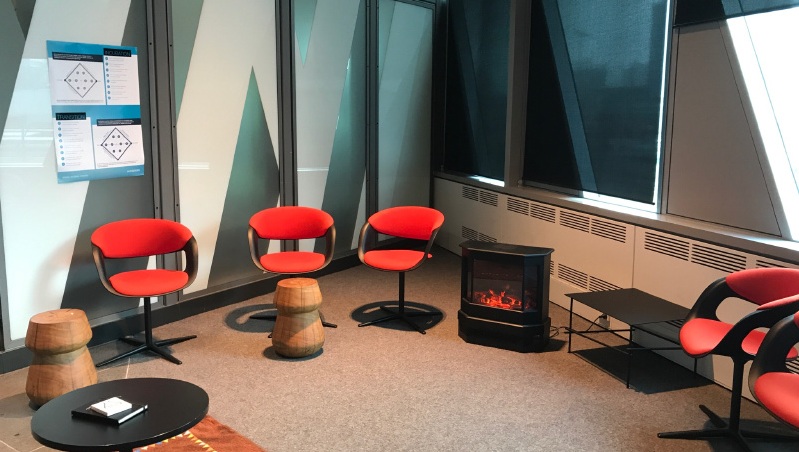 The 'fireside pitches'
After the fireside pitches the judges eliminated four out of the 10 teams. The remaining six teams had one more hour to refine their key messages before the final round of pitches which would decide the winner. Overcoming the nerves, all of the teams did a brilliant job of conveying their ideas and the working prototypes they had made. Unfortunately, my team did not win the challenge but we met new people, learned heaps, challenged each other's' thinking, had stacks of fun, and most importantly got a few good photos for Instagram. Who said millennials are narcissistic?
I think the most successful innovation labs are ones that genuinely engage the rest of the organisation which they are a part of, to build a culture of experimentation and smart risk-taking. The Telstra NAB millennial Challenge is a step towards building this culture among the future leaders of NAB and Telstra. Some people say millennials are entitled and over-indulged but the grads proved that young people can come up with innovative solutions which create business value and social value. I'm looking forward to our next challenge.